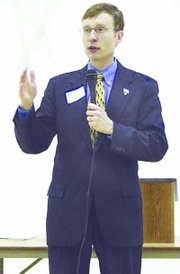 In a day when American leaders of integrity are a rarity, the Boy Scouts of America youth organization is needed more than ever, said Seattle's Rob McKenna.
Boy Scouting is all about turning boys into leaders, said the former Eagle Scout, who served as guest speaker this morning.
"I have evidence that the lessons learned in Boy Scouts are life long and the proof is everywhere," he said pointing to the men gathered at the Friends of Scouting Breakfast held this morning in Sunnyside.
The community leaders, who were gathered to give back to the local Boy Scout program, had at one time all been in Boy Scouts and some had risen to the rank of Eagle Scouts.
Like McKenna, they all had fond memories of rainy, summer campouts, soot-filled food cooked over an open fire and scars from blisters earned while hiking mountain trails.
Relating boyhood memories of his own adventures in scouting, the King County Councilman said that while making half hitch knots was fun, that wasn't all he learned in Boy Scouts.
He said the methods and principles taught at scout meetings and on the trail all helped to train boys to become future leaders.
"The ability to be brave and stand up for ideas, being challenged to speak out are all taught in scouting," he said.
McKenna said the leadership skills learned at the campouts are still being used by the CEOs of many Fortune 500 companies.
"It takes bravery to be a leader,'' said McKenna, who is no stranger to displaying his courage in leadership.
The Seattle lawyer has served on numerous governmental boards and community committees, including several state advisory boards, in addition to his duties as a King County Councilman. The 1985 University of Washington graduate now seeks to become the state's next Attorney General.
"The scout law of being honest, trustworthy and brave are all things we learned first at our Cub Scouts meeting," he said.
He is now passing on the Boy Scout code of leadership to his own son.
McKenna said by helping his son and other boys and girls involved in scouting he hopes to improve his community. "Those of us involved in scouting are helping to train the leaders for years to come," he said.
Today's scouting breakfast was also a fund-raiser to help expand the Lower Valley program, which currently involves 500 youths in various scouting programs.
"More volunteers are needed and financial support is needed to reach more youth," said Jay Blake, Chief Kamiakin District Field Director.
The donations made at today's breakfast will help make that possible, he said.
In addition to seeking support for the scouting program, special recognition was given to a community leader who continues to champion Boy Scouts. Sunnyside School District Superintendent Dr. Rick Cole, a former Eagle Scout, was awarded the Chief Kamiakin District "Good Scout " award for his efforts to include scouting activities in after-school programs.