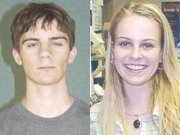 Just 14 more days remain until the Sunnyside High School class of 2004 can celebrate graduation from high school and begin the next leg of their journey in life.
Already well on their way to pursuing higher education are those students who during their high school careers have achieved outstanding academic status by climbing to the top 5 percent of their class.
Leading the class with matching grade point averages of 4.259 are Stacey Gorski and Josh Barr, who have been named class co-valedictorians. Amy Kilian, with a 4.222 GPA, will be the class salutatorian.
Also numbered in the top 5 percent are Mayra Carrillo, 4.151 GPA, Steffani Startup, 4.058 GPA, John Van Wingerden III, 4.087 GPA, Alaina Hull, 4.035 GPA, Angel Smith, 3.964 GPA, Sarah Dill, 3.949 GPA, Kyle E. Van de Graaf, 3.913 GPA, Martin Sanchez, 3.913 GPA, Jeffrey Davis, 3.892 GPA, Ryan Webster, 3.888 GPA, Laura Matson, 3.882 GPA, Jaime Lua, 3.870 GPA, Mitch Lathen, 3.846 GPA and Monica Sambrano, 3.806 GPA.
In addition to be being academically gifted, each member of the top 5 percent is also active in some type of community service, sport or extra-curricular activity.
For example, Gorski, who has made a career of being a standout in all of the Sunnyside School District's science classes, has earned numerous state and regional grand champion science fair awards. Most recently she was recognized by the Sunnyside Chamber of Commerce as its 2004 Outstanding Young Person. Gorksi, the daughter of Trish Nixon and Fred Gorski, is already enrolled at the University of the Sciences in Philadelphia, Pa., where she plans to study to become an oncologist pharmacist.
Barr, the son of Chuck and Ruth Barr, already has a direct admission into the computer science program at the University of Washington. He hopes one day to not only design award winning video games, he hopes to become a novelist. While in high school Barr was an active member of the SHS Apple Bowl and Knowledge Bowl teams. He was an Evergreen Boys State delegate and is an Eagle Scout.
Kilian will be attending the University of Washington to study biochemistry with plans of attending medical school. A leader in many of the school clubs, she also served as student body secretary, as well as being active in soccer, track, drama, fire squad and Key Club. The daughter of John and Jean Kilian, she was a member of the SHS Knowledge Bowl and Apple Bowl teams and served on the Sunnyside School District's Athletic Advisory Committee.
Carrillo, the daughter of Gerardo and Irma Carrillo, has shown interest in high school leadership training groups, such as FBLA and Link Crew, an organization which helps underclassmen adjust to high school life. Carrillo, who hopes to become a family doctor, will attend the University of Washington in the fall.
Startup, who not only attended classes at SHS but also attended Yakima Valley Community College Running Start classes, plans to study architecture at Washington State University, beginning this fall. In addition to being interested in music, Startup has been active in Link Crew, drama, flag team and peer mediation. She also found time to be active in volleyball, softball and basketball. She is the daughter of Don and Cindy Startup.
Van Wingerden, who has divided his high school career between wrestling, jazz band and working after school, will attend the University of Washington. He expects to earn a degree in biochemistry and perhaps go into research. He is the son of John and Deanna Van Wingerden.
Hull, who has proven herself a leader on the SHS student council and leaders in action group, plans to travel for a year before settling into college life. Hull, the daughter of Steve and Paula Hull, has participated in the SHS drama club, fire squad and soccer team. She is very active in her church youth group, which has led to her decision to be a part of the REACH Youth Ministry next year.
Smith, who sees herself eventually working in a big city emergency room, will attend the University of Washington this fall. She plans to major in biology or chemistry. Her graduate school plans include medical school. Active in Key Club and math team, she was also a member of the Grizzly fastpitch, bowling and golf teams, as well as being the volleyball team manager. In addition, the daughter of Sharon Smith volunteered her spare time at Sunnyside Community Hospital.
Dill will complete her high school career with her SHS diploma and an Associates of Science degree earned while attending the Yakima Valley Community College Running Start program. Dill has been accepted with distinction as a junior at the University of Washington, where she plans to major in biology. Medical or dentistry school looms on her horizon. Dill served as captain of the SHS soccer team and currently hold an orange belt in karate. She is the daughter of Donna and Jeffrey Dill.
Van de Graaf, a force on the athletic field in soccer, football and basketball, will attend the University of Washington. He sees himself as an orthodontist following graduate school. He is the son of Rod and Lori Van de Graaf.
Sanchez will attend the University of Washington, where his major will be business management. The senior class president hopes to one day to own his own business. He is the son of Martin and Martha Sanchez.
Davis will give up his spot as a member of the SHS pep band, jazz band and concert band when he graduates. He will attend the University of Idaho in the fall. The son of Leonard and Susan Davis, he was also active in fire squad, Link Crew, as well as track, and cross country while attending SHS.
Webster, the son of Kevin and Tracy Webster, will attend the University of Washington. He is undecided if his major will be in engineering, pharmacy or environmental law. A part-time employee at the Valley Racquet and Fitness Club, Webster was a member of the SHS golf and football teams. He was also a member of Link Crew, fire squad and drama club.
Matson will be headed to Irvine, Calif. to attend Concordia University this fall. While attending SHS she participated in band, drama club, fire squad, Link Crew, Key Club and flag team. She is also a swimmer, soccer player and member of the Grizzly girls track team. She is the daughter of Jeffrey and Doris Matson.
Lua has the choice of attending Central Washington University or Heritage College this fall. He wants to major in mathematics and Spanish regardless of which school he chooses. He volunteers his spare time to tutor elementary school students. One day he hopes to obtain a teaching degree. He is the son of Mercedes Lua.
Lathen hopes to pursue a career in the recording world, but first he plans to study communications at Western Washington University. He is the son of Tom Lathen and Laurie Carter. His extracurricular activities have ranged from being the captain of the SHS Apple Bowl team to being a member of drama club, the SHS jazz ensemble and the boys track team.
Sambrano sees herself as a leader in the field of interior design within 20 years. But first she will attend Washington State University to study interior design. The daughter of Sylvia and Enrique Sambrano, she split her high school years between fastpitch, DECA, Leader in Action and FBLA activities after school.