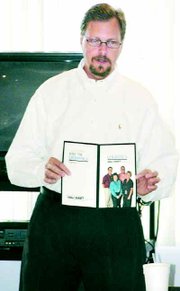 GRANDVIEW - Steve Martin, human resource manager for the Grandview Wal-Mart distribution center, was the guest speaker this week at the monthly Grandview Chamber of Commerce meeting.
Martin touched briefly on a volunteer program Wal-Mart offers to its employees and then shared an employee-orientation video about the retail giant with chamber members.
The volunteer program offered by Wal-Mart allows employees to donate 25 hours of their own time over a six-month period to a non-profit organization. Martin said the program includes time spent volunteering in school classrooms. Following the 25 hours of volunteer time, Wal-Mart then donates $250 to the program with which the employee has worked. Travis Sams, who is an operations coach at the Wal-Mart distribution center, is the first Grandview employee to complete the program. Sams volunteered his time with the Grandview High School baseball team. Martin said the Grandview distribution center has 20 employees taking part in the program right now.
Martin then turned his attention to a Wal-Mart orientation video he wanted to show chamber members. The video is used with all new employees hired by the company.
The video details how Sam Walton started in the retail business in 1940, as a manager trainee with JC Penney. During his lunch hours, Walton would go around to other retail stores and study what was being offered.
In 1942, Walton was commissioned as a 2nd Lt. in the United States Army. Walton eventually rose to the rank of captain in the Army's intelligence corps.
In 1950, Walton and his wife, Helen, opened Walton's Five and Dime store in Newport, Ark. By 1962, Walton owned 15 of the same stores in Arkansas. Around the same time, Walton opened a Wal-Mart Discount City store in Rogers, Ark. By 1969, Walton had 18 Wal-Mart stores. The first Wal-Mart distribution center opened in 1970 in Bentonville, Ark. Later in the year, Wal-Mart started trading stocks on the exchange.
The year 1972 proved to be an important one for the Wal-Mart corporation. The Wal-Mart distribution center in Bentonville doubled in size. The company had 51 stores with 2,300 associates. Wal-Mart sales in 1972 totaled $78 million. Wal-Mart also purchased the Hutchinson Shoe Company.
By 1978, Wal-Mart grew by leaps and bounds with 195 stores now open and $675 million in sales. The corporation also opened its second distribution center.
In 1981, Wal-Mart cracked $1.6 billion in sales and had 330 stores with 27,000 associates.
Based on a recommendation from one of his employees, Walton created the position of people greeter in 1983, which is a common site at all of the Wal-Mart stores now. The first Sam's Warehouse opened in 1983.
Walton launched a significant program in 1985, Buy American, which encouraged citizens to buy materials made in the United States.
In 1987, Walton established a satellite system, allowing all of his stores to communicate with one another. Sales in 1987 topped $12 billion. In 1987, Wal-Mart had 1,029 stores with 141,000 associates.
The corporation opened its first super center in 1988, which mixed the ability to purchase groceries with other items such as clothes.
Wal-Mart started its own radio station in 1991, which caters to each of the individual stores in the country.
Walton died on April 5, 1992 at the age of 74 from cancer.
Despite Walton's death, the company kept on growing at an amazing pace.
In 1994, Wal-Mart opened 192 stores in Canada. A year later, Wal-Mart opened stores in Argentina and Brazil. Wal-Mart started its credit card program in 1996 and also implemented its on-line website, allowing people to purchase items from the comfort of their own home.
The Wal-Mart corporation reached an incredible business achievement in 1997. That year, sales for the company totaled $105 billion. Wal-Mart also expanded its corporate reach to Germany in 1997, opening several stores.
Wal-Mart is today the largest retail business and private employer in the world.
"It is a huge company, but it doesn't really feel like it," said Martin. "It is very hometown friendly."