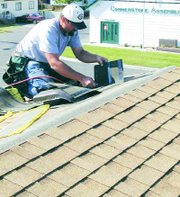 The sound of hammers hitting the roofs of buildings around town is unmistakable. During the month of April, the Sunnyside Building Division issued 75 building permits, and of those 16 permits were issued for roofing projects.
One of the 16 roofing permits was issued to Walters Superior Roofing, which is doing work on Country Inn and Suites at 408 Yakima Valley Hwy. The fee for the re-roofing permit, which was issued April 20, was $395.75.
Davin Gill, manager of the hotel, said the re-roofing project is just one of many things taking place at the inn. Gill and his partner, who currently works out of Seattle, said the two took over operation of Country Inn and Suites March 17, and since then they have been working on a variety of improvements. Gill, who recently moved to the Lower Valley, said they have already put new air conditioners in each of the 73 units. He noted that they have also purchased new refrigerators for every room, and will have a microwave available for each of the units.
Gill said the roofing project started about two weeks ago, and was scheduled to be completed this past weekend.
"We're renovating the whole place, and the roof is a part of that," Gill said.
Bill Walters of Walters Superior Roofing said over the past two weeks he has been working to take the old wood-shingle roof off and replace it with 30-year composition roofing.
Gill said the next project on the horizon will be painting the exterior of the two buildings that make up the hotel.
According to Gill, when the renovation is complete he and his partner are hoping to have 15 to 20 extended stay units, noting that there are already seven studio-style units that are equipped with kitchenettes.
"This winter we will start putting in more kitchenettes," Gill said. He added that the extended stay rooms will be in a living room, bedroom type of configuration.
Sunnyside Building Inspector Mike Storms said even though there were quite a few building permits issued for roofing projects during April, the city will likely see even more roofing projects as the weather continues to warm up. He said the warm weather makes sealing the new roofs easier.
Other projects that were issued permits in April include the demolishing of a single-family home, six permits for additions or alterations to a residential building and three for additions or alterations to a non-residential building.
Storms said there should also be some permits issued in the near future for several new homes, including those in the new Harvest Village development.
During April, the city's building division conducted 297 inspections and collected $8,145 in permit fees for projects with a total valuation of $155,600. The permits issued included 40 building permits, 11 plumbing permits and five mechanical permits, as well as five sewer connection fees, four water connection fees, four public works permits for curb, gutter and sidewalk, and three water meter permits. There were also two permits issued for public works street excavations and one permit for a deposit street cut.