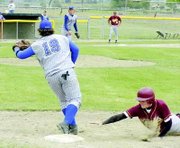 ZILLAH - Getting base hits wasn't a problem for the Sunnyside Christian High School baseball team this past Saturday. It was what the Knights did when they were on base that caused them fits.
Sunnyside Christian saw its season come to an end Saturday after an opening round Greater Columbia 'B' League District playoff loss to LaSalle. The Lightning used a four-run first inning and strung together a couple of solid other innings to win 9-3, earning a Regional berth.
The Knights looked as if they were going to make some noise early, after scoring three runs in the top of the first. Lucas Kilian led off with a single for Sunnyside Christian and then stole second. Chad Den Boer followed with a single. Kilian ended up scoring off a base hit from Cole Van de Graaf. Jacob Bosma then plated Den Boer with a single. John Bosma doubled to score Van de Graaf.
The Lightning roughed up Van de Graaf on the mound at the start. Van de Graaf went 1/3 inning, giving up three hits, two walks and four earned runs. Justin Burgers pitched in relief and had a noteworthy outing. Of the five runs scored off Burgers only three were earned. Burgers had two strikeouts and allowed nine hits and three walks.
"I was really happy with Justin," said Sunnyside Christian Coach Kevin Fennell. "There were only a couple of hits off him they really cracked."
The Knights out hit LaSalle 13 to 12, but one of the key mistakes for Sunnyside Christian was baserunning. Fennell said the Knights had success stealing on LaSalle in the first inning. Fennell said LaSalle made some key adjustments and ended up picking off several Sunnyside Christian baserunners over the course of the game.
Fennell also felt the four errors by the Knights came into play.
"We should have been out of a lot of those innings," said Fennell. "We shouldn't have gave up so many runs."
The Knights finished the season 6-6 in Greater Columbia 'B' League play and 11-10 overall. Sunnyside Christian loses just one senior, Lucas Kilian, off next year's team. The future looks rather solid for the Knights, as they are slated to return only one junior and the rest will be sophomores or freshmen.