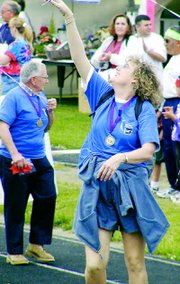 GRANDVIEW - Spring showers did little to dampen the spirits of the more than 450 walkers who turned out for the 2004 Lower Valley American Cancer Society Relay for Life benefit held this past weekend in Grandview.
"The weekend was amazing," said Tim Smith, who chaired this year's 22-hour fund-raiser for the American Cancer Society.
"People just kept walking, through the rain and the wind," he said.
Sunday morning, the relay walkers gathered to hear that their stoic efforts had resulted in collecting nearly $100,000 for the fight against cancer.
Cliff Septic Services of Sunnyside was again the team leader, turning in the most contributions, with nearly $10,300 for the American Cancer Society.
This year's event included 41 teams and 31 corporate sponsors, Smith said.
"We had a lot of fun, good entertainment throughout the afternoon and evening, and a lot of cooperation from the teams and event volunteers," he said.
Smith said the decision to change the relay period from 24 to 22 hours was made before he took over as relay chair. Smith, who works at the Grandview Wal-Mart distribution center, came on as chair just six weeks ago.
"I was on the Brigham City, Utah American Cancer Society relay committee for three years," Smith said.
"But this was the first time I chaired a relay," he said. He said he found the commitment of Lower Valley people to be very strong.
"A lot of good people worked on the event," he said. "I especially want to thank past event chair Cindy Rattray, who really helped me out with this year's event, " he added.
The 2004 Relay for Life kicked off Saturday afternoon with the survivor lap, an event which celebrates the victors in the fight against cancer. More than 120 people took to the track for the first lap, Smith said.
The teams, which included people such as members of the Lower Valley ABATE Club to children from Sunnyside and Grandview elementary schools, filled the track for the overnight event.
A popular event at this year's relay was the Wal-Mart-sponsored dunk tank. "Despite the rain, people kept dunking people all afternoon," said Smith.
Saturday night the walkers slowed long enough to participate in the annual luminary program, which honors survivors and those who have succumbed to cancer.
Smith said teams will continue to turn in money for the next several days.
"Right now we are hovering at the $100,000 mark," Smith said, "But we may go over that a bit."