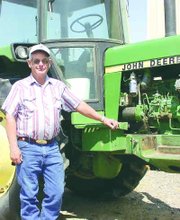 From his kitchen window, Cliff Van Belle can see the fruits of several generations of farmers who have tilled the land on property that has been in his family more than 80 years.
Van Belle, who was selected as the Sunnyside Chamber of Commerce's Outstanding Agri-business Person this past March, said his grandfather homesteaded the farm on Van Belle Road, located north of Sunnyside.
Van Belle was born in Sunnyside and grew up in the Liberty area, near Granger. The family homestead has been in his care for most of the past 30 years.
"We moved the original farmhouse off and built our current hone in its place," he said. "But the barn is original," he added.
The old-fashioned barn with its antique weather vane and hay derrick were originally built by his grandparents on the Van Belle Road farm'ss original 80-acre tract.
Van Belle takes a lot of pride in maintaining the historic structure on the family farm.
Van Belle, along with his son Chris, farms more than 1,000 acres of wheat, corn, hay and mint. His son, Steve, helps out, but also farms a few acres of grapes down the road, said Van Belle.
While enjoying a quiet conversation with Van Belle, one wouldn't know how excited he can get about turning the first row of soil each spring. But his family claims he can get as excited as a kid at Christmas each spring.
His skills on the farm were recognized in 1997. Van Belle received a national award from the National Corn Growers Association in honor of his excellent yield and the overall quality of his crops.
A soft-spoken man given to practical jokes, Van Belle plays as hard as he works. For years he admits he was nuts about snowmobiling. "I spent a lot of time each winter playing with the kids on snowmobiles," he said.
These days he is crazy about another type of loud machine. Van Belle is a huge fan of NASCAR racing. "I like going to the races and watching the races on television," he admits.
But his real passion is for his 10 grandchildren, with whom he enjoys fishing and water skiing vacations each summer and the occasional hay ride each fall.
Recently Van Belle has decided to take more time for those family outings. "I've cut back on my farming, letting Chris take over more of the farm," he said.
But that doesn't mean the long-time farmer has given up watching the weather or current water conditions. He and his wife, Esther, still keep a close eye on the farm.
"We just take a lot more time off," he grinned.