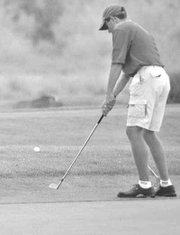 What could easily have been three or four Grizzly golfers heading to the State tournament ended up yesterday with only Sunnyside's Kevin Lick qualifying for the big dance.
"It was disappointing we had five guys finish in the top 25, but only one in the top 12," said Sunnyside High School boys golf coach Glenn Braman.
All five of Sunnyside's linksters had the talent to advance out of yesterday's District/Regional tourney, but in the end it was just the junior Lick who put together a solid enough of a round to make it to State. Lick, who'll be making his third consecutive appearance at the WIAA Class 3A State Boys Golf Tournament, finished sixth yesterday. Only the top 12 golfers at the District competition earned the right to move on to State.
Lick posted a four-over 76 on Monday at his home Black Rock Creek Golf Course, the site of this year's District tourney. He finished four strokes back of the District medalist-Joel Dahmen of Clarkston-the defending Class 3A State champion.
The cut line to advance to State turned out to be an 80. Sunnyside junior Andrew Schutt missed the cut by three strokes, finishing with an 83, while teammate Ryan Webster, a senior, was a stroke back with an 84. Sunnyside's Chris Trammel, a senior, and sophomore Zack Hathaway closed out the Grizzly scoring with an 86 and 88, respectively.
There was a four-way tie for individual runner-up honors at District. Shooting identical three-over 75's were Alex Moore of Hanford, Bobby Elder of West Valley, Adam Alldredge of Ellensburg and Robert Lane of Clarkston.
Lick, one shot back at 76, was on the verge of claiming runner-up honors all by himself, but unraveled a bit coming down the stretch.
"Kevin didn't finish real well," said Braman, explaining that Lick was one-under on his back nine score before absorbing bogeys on holes 16, 17 and 18.
Despite the less than spectacular finish, Lick turned in his normal, workman-like effort. He picked up a pair of birds on the front side, at holes 5 and 7, and started off the back nine with a birdie, as well. His lone disaster came on the par-4 fourth, where he took a double-bogey.
"Kevin makes a lot of pars, that's his game," said Braman. "He has good game management. He's a battler."
Lick will be looking to improve on his 23rd place finish at State last year. This year's State tournament will again be at Yakima's Apple Tree Golf Course, the site of last year's tourney.
"Kevin feels pretty comfortable at Apple Tree," Braman said. "There's no reason he can't pick up a top 10 finish at State this year. He's not that far behind last year's State champ, Dahmen."
Schutt, whom many figured had the best chance of any of the Grizzlies to join Lick at this year's State tourney, came close to earning a berth. His primary undoing, though, came on holes 10 and 18.
Hole #10, a relatively short par-4, was the most disastrous for Schutt. He hooked a 5-iron off the tee into the rough, dumped his second shot into the drainage ditch that cuts through the fairway and after taking a drop blasted his approach shot into a bush near the green. By the time he got his ball onto the green and into the cup, Schutt was looking at a triple-bogey. He also absorbed a double-bogey on the finishing 18th hole, after taking a penalty stroke for a lost ball.
Before he hit the turn, Schutt was on a relatively close pace to get in under the cut line, finishing the front nine with a 41 thanks to all pars and bogeys. He sandwiched six pars in between his two blow-up holes on the back side.
"It was just a couple of bad decisions on a couple of holes," Braman said of Schutt's round.
The senior Webster, fighting a big draw all day, actually didn't play all that badly in shooting an 84 (43-41). He didn't knock down any birdies along the way, but his only flare-ups were double-bogeys on 6, 9 and 11.
Trammel's bid for a State berth got off to a shaky start, as he doubled holes 1, 2, 5 and 7. He finished the front side with a 45, improving to a 41 after the turn.
Hathaway never really did get on track in posting his 88 (45-43). The sophomore has turned in much lower rounds this season, but Monday wasn't his day. His lone highlight came on the front side finishing hole, knocking down a birdie on the par-3 closing hole.
Team-wise, Sunnyside shot an aggregate 328 yesterday to finish fourth in the team standings. Clarkston won the District team title with a score of 312. Hanford was the top finishing Mid-Valley League team, runners-up with a score of 327.