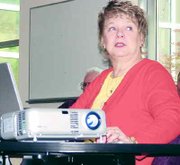 Mike and Jean Youngquist of Mount Vernon have been farming berries, cauliflower and cucumbers in the Skagit Valley for move than 35 years. Wednesday morning, Jean spoke to the Sunnyside Daybreak Rotary Club about the possibility of selling berries as a local fund-raiser.
Youngquist said her family first got started in farming in the 1800s, growing oats, which were shipped to the greater-Seattle area and used to fuel the city's horse drawn carts. As her family continued to farm, the industry began to change and the family moved into growing crops like the ones they grow today. Today, the Youngquists, who form the company Mike & Jean's, grow strawberries, raspberries, blueberries, cucumbers and cauliflower.
Youngquist said the crops the family grows aren't the only thing that has changed in the industry. Processors started to move out of the Skagit Valley area, leaving the farm with little choice but to take its operation to a new level. Youngquist said Mike & Jean's went to direct marketing.
"It's really risky," she said, noting that they had to build a new facility and start dealing with different grocery stores.
Youngquist said Mike & Jean's grows, processes, packs and promotes all of the produce they specialize in. She added that cauliflower is their largest crop. According to Youngquist, the farm hires about 200 seasonal workers a year.
In regards to the company's fund-raising opportunities, Youngquist explained that since Mike & Jean's does do direct marketing they can offer organizations, like Sunnyside Daybreak Rotary, a good price on berries. She said the club can then turn around and sell the berries as a fund-raiser, offering consumers a good price while still making a profit.
"The consumer gets a price they can't beat," she said.
When it comes to fund-raisers, Youngquist said groups have their choice of selling fresh washed and sliced strawberries, raspberries and blueberries, as well as individually quick frozen raspberries. Youngquist said the strawberries should be available June 14 through 20, raspberries July 5 through 20 and blueberries July 5 through Aug. 14.