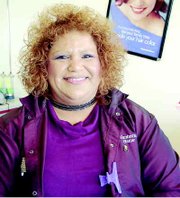 She gets goose bumps when people give her compliments about her talent for creating attractive hairstyles.
"I enjoy knowing a new hairdo is appreciated," said Mimi Garcia, the manager of Sunnyside's Fantastic Sams Salon. After more than 10 years of being a stylist, Garcia said she still loves working with hair.
"It's not a just a job to me," she said. "I have always enjoyed doing cuts, styling and especially working with colors," she said.
"I wish we could do more style makeovers," she said.
"I especially love it when a client comes in with a "do over" request," Garcia said.
As manager of the Sunnyside Fantastic Sams salon on East Lincoln Avenue, Garcia encourages her fellow stylists to seek that type of job satisfaction as well.
"We share the compliments when a hairstyle turns out well," she smiled.
Garcia has been the manager of the local Fantastic Sams salon for the past two years. But she is no stranger to the world of beauty. She operated her own beauty shop for six years on Yakima Valley Highway, before deciding to join the Fantastic Sam franchise.
"My shop was called "Mimi's Salon, naturally," she said.
Garcia said at her old shop she was kept busy with doing hair for weddings, proms and other special events like quinceaneras.
While she likes her work as a stylist, being her own boss was very stressful.
"I like managing this salon. It's less stressful, plus I get to meet a lot of new people," she said.
Garcia said the usual Fantastic Sams customer is interested in getting a simple haircut.
"We do a lot of highlights and perms. Occasionally, we get a customer who wants us to create an entirely new look," she said.
"Adventurous customers are my favorites," Garcia said.