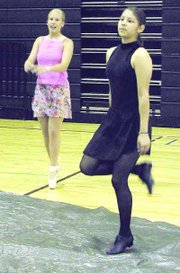 GRANDVIEW - The youngest class at Grandview High School is shouldering a lot of responsibility. Since March, the freshman class has been working to organize the first ever Grandview High School Follies.
Freshman class president Danika Martinez explained that the Follies will serve as a fund-raiser for the class of 2007, as well as a talent show for the entire school.
Martinez said there are approximately 15 acts that will take place on stage at Grandview Middle School during the two-hour production. According to Martinez, a myriad of different acts are planned for the evening, including a performance by a mariachi band, belly dancing, a magic act, a performance by a rock band, and a combined ballet and Irish step dance routine, which will performed by Martinez and Allison Grow.
She said in order to find people to take part in the Follies, the freshman class held auditions in April. She added that the Follies will be run like a talent show, with prizes given out at the end of the night for first, second and third place. She said judges for the evening will be people from the community.
Although this is the first year of the Grandview High School Follies, it is not the first time the class of 2007 has put together a talent show. Martinez said last year, when the freshmen were in eighth grade, they held a talent show as a fund-raiser. The only difference between the eighth grade talent show and the high school Follies, is that this time around the entire school was invited to participate.
Martinez said putting together the Follies has brought together a lot of people from the freshman class. She said not only are members of her class going to be on stage, they will also be doing everything from handing out programs to working back stage.
Even before the curtain opens for the Follies, the freshman class will have already put a lot of work into the production. Martinez said members of the class have already come together to create a set of rules for the talent show, as well as a schedule of who will perform when.
"It's been a lot of fun," she said.
According to Martinez, the freshman class is hoping to raise more than $500 for their class through the talent show. She added that the Follies are something the class of 2007 plans to put together as a fund-raiser every year of their high school career.
"We want to make it our fund-raiser," she said.
The Grandview High School Follies is set take place Thursday, May 27, at 7 p.m. at Grandview Middle School. The cost of admission will be $5, with senior citizens and preschool-aged children getting in for $3.