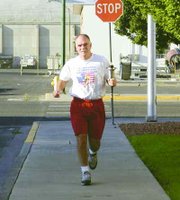 Saturday morning, across Yakima County representatives from the Yakima County Sheriff's Office, as well as the Sunnyside, Grandview, Granger and Yakima police departments took to the streets to show their support for the Special Olympics.
Representatives from the different law enforcement agencies took part in the 2004 Law Enforcement Torch Run for Special Olympics, starting with Sheriff Ken Irwin, who began the run at the Grandview Police Department.
From Grandview different police officers took turns running the torch through different communities, ultimately ending up at the Kittitas County Line on Canyon Road.
Police officers weren't the only people who took part in the torch run. Special Olympic athletes also pitched in, running the torch with officers along the Greenway starting at Union Gap and ending at Harland Landing.
The torch run is an event started in 1981 in Kansas by Police Chief Richard LaMunyon, who saw an urgent need to raise funds for and increase awareness of Special Olympics. Since beginning in Kansas, the torch run has become an event that takes place in all 50 states, as well as several countries throughout the world. This year marked the 20th anniversary of the torch run in Washington.
According to the Yakima County Sheriff's Office, in 2003 law enforcement agencies across the state generated more than $260,000 for Special Olympics. The Yakima County Sheriff's Office alone raised approximately $36,000 for the Special Olympics last year.