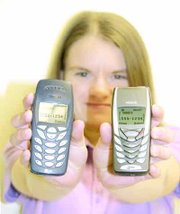 Changing your cellular phone number no longer comes with the hassle of having to tell all of your friends, family and business associates your new phone number. That's because today (Monday) marks the first day that Lower Valley cellular customers will have a chance to take advantage of wireless number portability.
Jay Ellison, executive vice president of operations for U.S. Cellular, explained that wireless number portability is something that was mandated by the Federal Communications Commission three years ago. The mandate made it necessary for wireless companies to allow customers to take their phone number with them when they switch service providers.
Although number porting starts in the Lower Valley today, it is something that is not an altogether new service being offered by wireless service providers. Ellison explained that since Nov. 24, 2003 service providers throughout the country have been offering number porting in the 100 largest metropolitan areas, which included Seattle.
"The industry learned a lot from phase one in the top 100 markets last year and, as a result, we expect phase two will be even smoother," said John E. Rooney, U.S. Cellular president and CEO.
Ellison said number porting knocks down one of the last barriers in competition between wireless companies. He added that porting is something U.S. Cellular is very supportive of, noting that since porting started in November 2003, the company has gained more customers then it has lost.
Ellison said when it comes to changing service providers and keeping your established phone number there are several things people should keep in mind. He said the first thing people should be aware of is that they can not cancel their contract with their current wireless service provider until they have gone to the company they are planning on moving to.
According to the Cellular Telecommunications and Internet Association (CTIA), if a person cancels their service before going in to see the company they are planning on moving to, they will likely lose their phone number.
Instead, Ellison said customers should take a copy of their current cellular service bill with them to the company they are hoping to move to. He explained that not only will it help make porting easier, but it will also help the new company find a service plan that will best fit the person's needs. Ellison said customers porting their numbers will also likely have to purchase a new handset, noting that not all of technology that is out there is compatible.
"We want to ensure our customers get the latest technology," Ellison said.
According to CTIA, porting your number from one company to another should take anywhere from a few hours to a few business days. Ellison said U.S. Cellular has invested $50 million in making sure its system and staff members were ready for porting to go nationwide. He said in the 100 largest cellular markets, 90 percent of ports are being completed in 10 minutes or less.
And wireless to wireless are not the only ports people can make, thanks to the FCC mandate. People can also port their land line phone number to a wireless service.
"Many people are cutting their cords today," Ellison said, noting that there are some geographic restrictions when it comes to land line to wireless porting.
According to CTIA, land line to wireless porting is currently only available in the 100 largest metro areas.