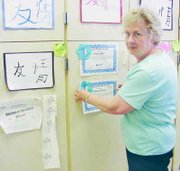 Getting up and going work is a pleasure for Sunnyside Pioneer Elementary School teacher Rose Hall.
At an age when most people are thinking about retiring, Hall eagerly heads off to school where she is greeted by a room of equally enthusiastic fourth graders. It's a daily routine the 63-year-old Hall has kept up for the past 38 years.
"I did stop a three times to have my children, she admits.
"But after a while I'd get itchy feet to be back in the classroom," she said.
Hall has taught in the Sunnyside School District for the past 12 years, settling in the district after a career that has taken her to many parts of the nation and the world.
"My husband, Jim, who is now a retired teacher, and I traveled and moved around a lot in the early days of our careers," she said.
The couple taught in seven states and in Canada before moving to the Yakima Valley.
The petite woman even spent a short time serving as a teacher in the Peace Corps, one of the few adventures in her life she didn't enjoy.
"The conditions were so bad and we never felt wanted," Hall said of the couple's time in Ethiopia.
"I taught in Grandview prior to coming to Sunnyside," she said.
For the majority of her career, her educational attentions have been given to the children in the fourth grade, an age she loves the best.
"I never wanted to teach higher than the fifth grade. I've always believed it takes a special person to teach the upper grades," she explained.
But Hall is a pretty special person herself. She is known to arrive in her classroom at 7 a.m. each morning and often stays as late as 5 p.m. preparing and perfecting her 24 students' lesson plans. It's to her credit that each children feels as though he or she is the "teacher's pet."
"They all try hard to do well," she beams.
Hall earned her teaching degree from Mt. Mary College in Yankton, S.D., and holds a Master's degree from Heritage College. She has been a mentor to numerous Sunyside teachers over the years. She has even named the Sunnyside School District's Educator of the Year. She recently was selected to be a Washington Assessment of Student Learning writing scorer.
Hall's dedication to the teaching profession was rewarded earlier this year when she was named the Sunnyside Chamber of Commerce 2004 Outstanding Educator, an honor she shared with her building principal Stan Davis.
"I feel very honored to be chosen," she said. "But I feel there are so many other teachers who also deserve this honor."
Hall said she doesn't have plans of retiring anytime soon.
"It's still fun to come to work and I enjoy teaching," she said.
"The kids all work so hard and I still feel good knowing they are trying to learn everything," she said.