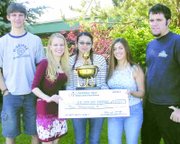 ELLENSBURG - The questions flew back and forth. The buzzer rang under the hot studio lights as the Sunnyside High School Grizzlies confidently set out to reclaim the coveted Apple Bowl trophy for the fourth time in Apple Bowl history this past Saturday.
The five-member academic team, led by high school advisor Dan Thomas, beat the West Valley Apple Bowl team with a score of 295-215 in the 2004 championship finals.
The 2004 KYVE Apple Bowl finals were televised Saturday, May 22, from the television studios on the Central Washington University campus.
The SHS team handily beat last year's defending champions, the West Valley Rams, in the 24th finals of the popular high school quiz competition, which is produced by KYVE television in collaboration with Central Washington University.
Team members Mitch Lathen, Josh Barr, Amber Gonzalez, Amy Kilian and Stacey Gorski all took turns fielding questions about science, English, history and math and a variety of miscellaneous topics. The all-senior Grizzly team earned the right to advance to the championships by beating out teams from Grandview, La Salle and Davis high schools early in the season, said Thomas.
As their reward, the team brought home the Apple Bowl trophy, which will be on display in the high school business office for several days before taking up a prominent spot in the school trophy case.
In addition, the team will split a $2,000 savings bond five ways, said Thomas, who is in his second year of coaching the Sunnyside team. They also received medals to keep and t-shirts for taking part in the competition.
Thomas, who previously coached the Granger High School Apple Bowl team, said the Sunnyside group knows a lot about a variety of topics.
"They are a sharp group," he added.