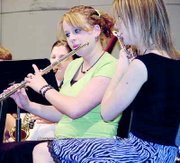 "Steal gas, lose your license" is the message showing up on gasoline pumps around the Lower Valley. Area gas merchants faced with increasing numbers of drive-offs are installing security cameras, requiring pre-payment and yes, using the courts to punish the offenders.
"Maybe it is because of the higher prices of gas, but we are seeing more people driving away without paying for their gas," said Bertha Prieto, manager of the Outpost Texaco station on Waneta Road, east of Sunnyside.
"A lot of people come in to pre-pay for their gas purchase, even though we don't require it," she said.
Prieto said she and her staff try to keep a close eye on their gasoline customers "But about three times a week someone will get away with some free gas," she said.
"We try to get a license plate number, but we're not always successful," she added.
Sometimes the drive-off is an innocent mistake, said Mickey Spurlock, manager of the Sunnyside Chevron Station on South First Street. She said some gas customers don't know how to use their gas cards.
"They swipe the card, thinking it is registering the purchase at the pump. Most times it does, but occasionally it doesn't record and that is when the drive-away happens," she explained.
Spurluck said the Chevron station owners have installed cameras in the parking lot and have changed several of the gas pumps to pre-pay only.
"We like being able to keep the convenience of letting people pump gas first, then pay," Spurlock said. "But we can't have people driving away without paying."
Spurlock said the pumps located just out of sight of the Chevron's on-duty clerk are pre-pay only.
"We are keeping a closer eye on gas customers and those who drive-away will be prosecuted," she warned. "We can't afford to lose money to thieves."
At the Sunnyside Maid O' Clover store and the Shell pumps at the Sunny Spot Restaurant on Yakima Valley Highway, both have pre-pay rules for their gas customers. In Grandview just off the freeway, the Maid O'Clover gas pumps are also pre-pay, said Dona Hull, long-time cashier.
"It saves us hiring a cashier who just watches the pumps," she said.
Chandler's Conoco in Granger has also changed several of its pumps to pre-pay.
"It is mainly the gas card users who inadvertently drive way without paying," said station employee Amanda Guadarrama.
"We do have others who try to slip off," Guadarrama added.
"But we keep two cashiers on duty to make sure that doesn't happen often," she noted.
As the price of gas continues to creep up past the $2.25 per gallon mark, Lower Valley station managers expect to see more drive-offs.
"We'll try to get their license plate numbers and we will seek charges," said Prieto. "But we sure can understand why some people may try to steal gas. It is getting too expensive," she added.