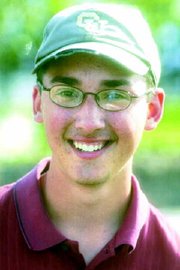 WEST VALLEY - Yesterday's closing round at the WIAA Class 3A State golf tournament may not have been as spectacular as what Kevin Lick dreamt about the night before. Nonetheless, the Sunnyside High School junior finished up the postseason affair with a solid 77.
Coupled with his opening day three-over 75, Lick finished in a three-way tie for 26th place honors.
His two-day total of 152 was 11 shots off the pace of the Class 3A winner-Chris Killmer of Bellingham (70-71-141). Four other golfers, all from the west side of the state, tied for runner-up honors, one shot back of Killmer with identical 142's.
Adam Alldredge of Ellensburg was the Mid-Valley League's top finisher at State. Alldredge (73-74-147) finished in a four-way tie for seventh place honors. West Valley's Bobby Elder (73-76-149), shooting on his home Apple Tree Golf Course, ended up in a six-way tie in 16th place. Hanford's Alex Moore, who was sitting in fifth place after the opening round of action on Monday with an even-par 72, slipped all the way back to 29th place when he tumbled in Tuesday with an 81.
Lick, who was making his third consecutive appearance at the 3A State golf tourney, opened Tuesday's round in fine fashion. After parring the first two holes, he slid to one under by nabbing a bird on the par-5 third. Lick bogeyed the fourth hole, but after picking up a pair of pars on 5 and 6, he found himself even heading into the three closing holes on the front side.
Unfortunately for the Grizzly linkster, Apple Tree's seventh hole-with a magnet-like pond guarding the front side of the green-got the best of him.
"I hit my fairway irons pretty well yesterday," Lick said, "Except for that one bad shot on No. 7. I put one in the drink, and ended up with a triple-bogey."
Sunnyside golf coach Glenn Braman said the ball in question came within a yardstick of jumping onto the green, which would have set up a birdie opportunity for Lick.
"The ball was only two feet short of clearing the pond," Braman said, noting that the shot was pretty much on-line with the pin. "Sometimes, a close shot like that is the only difference between a good round and a super round," Braman added.
Lick may have unraveled a bit after absorbing the triple. He closed out the front nine going bogey-bogey, which gave him a five-over 40.
Any confidence that may have oozed out of Lick coming down the front nine stretch was quickly regathered after the turn. He opened the back side with back-to-back birdies, both on relatively manageable par-4's. Lick followed up the two tweeters with a pair of pars on 12 and 13. He then scooted down to 3-under on the back nine by knocking down a birdie putt on the par-5 14th hole.
"The greens were a little rough," Lick said. "The balls were taking some bad bounces. I was getting my putts on-line, but a lot of them I was leaving short or they'd take a terrible kick and I'd miss the hole.
"But on the back side, I managed the greens a lot better than earlier in the round," he added.
Braman said the shagginess of the Apple Tree greens surprised him a bit. "They were better than they were three or four weeks ago, but for something like this, being such a large, important tournament, I thought they'd be in better shape.
"Of course, if they had been running as fast as our Black Rock Creek greens, with all the undulations the Apple Tree greens have, they might have been a lot tougher than they actually were," Braman added.
After dropping his overall round on Tuesday to two-over with the bird on No. 14, Lick picked up consecutive bogeys on 15 and 16. He parred Apple Tree's signature par-3, island-shaped 17th green. But he closed out his round with a bogey on 18, thanks to a drive off the blocks that found the fountain-spewing pond that extends just over 200 yards in front of the tee area. Despite bogeying three of the final four holes, Lick posted an even-par 37 on the back nine.
Braman said his three-time State tourney qualifier wasn't all that pleased with his round when he hit the clubhouse. But with a little time to reflect on what he has accomplished during his first three years of high school, Braman said he's sure Lick will come to appreciate what has transpired.
The morning after (today), Lick seemed content on the effort he put forth Monday and Tuesday.
"I was happy with the way I was striking the ball on the blocks," he said. "Other than the one bad shot on seven, I was hitting my fairway irons well.
"And my wedge shots, for the most part they were right on the pin all day," Lick said. "Most of the time I feel pretty comfortable with the wedges in my bag."
In looking ahead, Lick confirmed that he still has the goal of competing at State for a fourth consecutive time. To help prepare him for that task, he plans on assuming a challenging summer schedule of junior golf competition.
"The big one will be the USGA qualifying tournament, for the national public amateur event, my dad and I will go down to in California in late June," he said.
Based on three years of WIAA Class 3A State tournament experience, it's probably a good bet that the young Lick is going to have a successful summer this year.