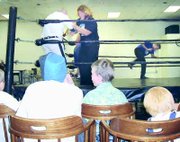 The professional wrestling industry has names like Randy "Macho Man" Savage, The Hurricane, Latino Heat Eddie Guerrero and The Undertaker. Now, the professional wrestling world can add the name Josh Childress to its list.
Childress, 20, has quickly worked his way through the ranks of the International Championship Wrestling (ICW) Association. The 2002 Grandview High School graduate recently took part in his first match, an 11-man battle royale.
Wrestling has been something Childress has been interested in for the last decade.
"I always liked how the crowd reacts to them being in the ring," said Childress.
Video games was how Childress became interested in wrestling. Childress said he used to play Sega Genesis wrestling games with his friends and his love of the sport took off from there.
It wasn't until he was 15 years of age that Childress decided he wanted to pursue being a professional wrestler. What finally made Childress decide on wrestling as a profession was when the popular wrestler Sting turned to the dark side. Childress fondly recounted how he enjoyed seeing the crowds on television react to Sting.
With a little help from his father, Norm, Childress has been given the opportunity to live out a childhood dream. In October of last year, Childress and his father went to see an ICW show in Tacoma.
"We arrived a bit early," said Childress.
Never one to be shy, Childress and his father snuck back stage through an open door. As the two were about to be kicked out by ICW staff, Childress' father explained how his son has wanted to become a wrestler.
After staying in contact with the promoter, Childress was finally accepted into the ICW training school, The Torture Chamber. Childress was accepted into the wrestling school at the beginning of April.
"It was humbling," said Childress of his first adventure into The Torture Chamber. "I went in there thinking I knew everything about wrestling."
Childress travels every weekend to Bremerton to train at the school under the tutelage of Tim Flower, who is a Canadian Hall of Fame pro wrestler. Flower has worked with such famed independent wrestling organizations as Extreme Championship Wrestling.
Childress says applicants undergo a screening process to enter the wrestling school. He said each of the applicants are asked about their knowledge of the sport of wrestling.
"You have to have talent," added Childress.
During the weekend training sessions, wrestlers work on cardiovascular training, rope drills and break down various moves.
Childress said the school features timelines for each participant. He said some wrestlers move through the ranks quicker than others, just depending on their talent level.
Childress took his talent and moved rather quickly through the ranks. Childress took part in his first professional wrestling card on May 1 in Cottage Grove, Ore. Childress was one of the final three wrestlers left in an 11-man battle royale. Childress is set to be on another ICW card in Seattle on June 25 in a tag team match.
But for those who may think there is "big money" in professional wrestling, think again. Childress doesn't get paid for his efforts as he makes his way through the professional ranks. Childress said there are only a few wrestlers in the organization that get paid and most of that goes towards food and living expenses.
Childress said the worst part of all this is the traveling. Childress said it gets tiring traveling each weekend to the coast. But he isn't about to give up on his dream.
"I like it. I am in love with the sport," said Childress. "It has been my dream for a long time, so why not go for it?"
Childress does have dreams of making it to a larger, professional organization, but not necessarily the famed World Wrestling Entertainment organization.
When Childress isn't busy mangling opponents on the mat, he stays busy working for the City of Grandview Public Works Department.
As far as the one thing that would surprise people about the sport of wrestling, Childress said it has to be executing the different moves.
"It hurts a lot more than you would imagine," he smiled.