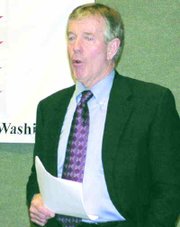 Sending career criminals to jail and keeping them there is part of a new law enforcement movement aimed at reducing gun violence across America.
"We want criminals to know that gun crime means hard time," said U.S. Attorney Jim McDevitt, Eastern Washington's top law enforcement officer.
"Criminals using guns to commit their crimes are going to find themselves as guests of our federal long-term care facilities (prisons)," he said.
McDevitt was in Yakima Wednesday to announce law enforcement's participation in Project Safe Neighborhoods, a national network of law enforcement agencies partnering to take gun-toting criminals off the nation's streets.
He said since the project was initiated, federal prosecution of gun-related crimes has soared. In Yakima County, gun crimes prosecutions have increased, as have the number of guns seized by officers.
Agents with the Bureau of Alcohol, Tobacco, Firearms and Explosives (ATF) have traced the paths traveled by 942 crime guns confiscated in Yakima County from Jan. 1, 2000 to Jan. 31, 2003. That's a rate of almost 25 per month, according to statistics compiled by Yakima's ATF field office. Nearly half of the guns seized were taken from people illegally in possession of them, and one in six guns was used in violent crimes. Firearms were the weapon of choice in more than a third of Yakima County homicides during that period.
"ATF's primary mission is to reduce violent crime in our communities and neighborhoods through the effective enforcement of domestic federal firearm laws," said Gary Mayfield, resident agent in charge of the Yakima ATF office.
"Our agents are specially trained to investigate violations of firearms laws, and we work closely with other federal, state and local agencies to reduce violent crimes," he said.
McDevitt said Project Safe Neighborhoods leverages federal, state and local resources to target gun crime. Federal gun crime prosecutions in the Yakima area last year totaled 52, up 68 percent from 31 in 2002.
Already this year, the federal prosecutors have brought 23 cases, a pace that would eclipse last year's total. A deputy prosecutor hired with Safe Neighborhoods grant money is averaging 58 gun cases a year since 2002, an almost 52 percent increase over 2001.
Across the nation, federal gun crime prosecutions have increased by 68 percent since 2001. In addition, there has been a 62 percent increase in the number of defendants charged with firearm related crimes, McDevitt said.
"We are focused on the most dangerous criminals who are believed to possess illegal firearms, thereby creating more risks for the community," he explained to members of the Washington State Association of Sheriffs and Police Chiefs at their convention in Yakima.
McDevitt said Project Safe Neighborhoods is an unprecedented coordination among law enforcement officials.
McDevitt said the project's focus is on prevention, tactical intelligence gathering, more aggressive prosecutions and enhanced accountability.
The program targets gun use among violent drug traffickers, gangs, robbers and gun traffickers who supply firearms to violent criminals and juveniles. Those on the region's "Most Wanted Career Criminal" lists are a priority, said McDevitt.
"Law enforcement at all levels is working together to address the proliferation of gun crimes that pose a serious public safety concern and threaten our quality of life," said Yakima County Sheriff Ken Irwin.
"The message is simple: if you commit a gun crime we will catch you and put you in prison for a long time," Irwin added.