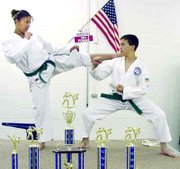 May has been a good month for Rocky Gonzales' Sunnyside karate school. His students recently earned karate honors and trophies for martial arts style and form at regional tournaments held on opposite sides of the state.
The Sunnyside students collected seven trophies at the Seattle Battle at the Beach Tournament May 15. They then traveled to the Spokane Inland Empire Martial Arts Tournament held May 22, where they picked up eight more trophies.
Green belt student Haydee Navarro, 13, came home the grand champion in form at the Seattle tourney, said Gonzales.
She also claimed first place honors in the form and sparring events at the Seattle event. Navarro was also the first place winner in her division's sparring contest at the Inland Empire event.
Yzuda Montes, 11, also a green belt student, brought home first place honors in the form and sparring events from the Seattle tourney. Montes then earned a first place trophy in the form event at Spokane. She also had a third place finish in sparring at Spokane.
Also earning honors was Lucio Montes, 15, a brown belt student. Montes earned a sparring medal in his division in Seattle. Green belt Jordan Salazar, 14, claimed a first place medal in the Bo contest and a second place finish in sparring in Seattle. He also claimed a third place form trophy at the Seattle tourney. Salazar then went to Spokane, where he finished first in form and second in sparring.
Also competing for the Sunnyside school was white belt student A.J. Waterman. The 7-year-old traveled to Spokane with his fellow competitors to bring home twin first place honors in the form and sparring events.
Gonzales, who operates the Northwest Tae Kwon Do Association, holds weekly classes at the Navarro Family Community Center in downtown Sunnyside.
Gonzales, who has been practicing martial arts for most of his life, said the majority of his students have been studying with him for the past four years.
A grand master in the martial arts, Gonzales said his students will be competing June 12 in Tillamook, Ore. at the regional grand championships.