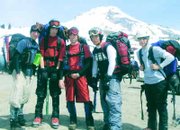 Foul weather conditions kept five Grandview Boy Scout Troop #643 members and their three leaders from reaching their goal of summiting Mt. Hood the first weekend in May.
The largest mountain in Oregon, the boys wanted a bigger challenge than last year's climb, which was to the top of Mt. St. Helen's, according to Dr. Tim Thompson, one of the leaders on the trip.
Mt. St. Helen's is about 8,500 feet tall and Mt. Hood stands at 11,200 feet.
The climb is part of the high adventure program the Boy Scouts offer each year.
"There's quite a bit of difference," said Thompson of the two climbs.
Saturday, May 1, the first day of the climb the group made it to 9,000 feet and camped in the snow, said Thompson.
"Everyone was pretty tired our first day," said Thompson.
The next morning the group woke up early to start climbing before the snow started to melt, but poor weather conditions kept them from reaching the summit.
"The winds were really blowing hard," said Thompson.
Conditions cleared at about 7 a.m., but by then it was too late to continue climbing for the day.
"Once the sun hits the slope it makes for dangerous conditions. We put safety first," he added.
On the trip the Scouts practiced some rope techniques for climbing and also learned how to use an ice ax and crampons, equipment needed for climbing in the snow. The boys on the trip were eligible to earn winter craft badges, as well as climbing and overnight camping badges.
"It was a pretty exciting trip," said Thompson. "There's already talk of going again next year."