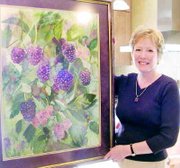 A picture of fish in a ice chest. A clipping of a woman holding a bowl of peppers. Blackberries on the vine.
Many things inspire watercolorist Terri Rice.
The mother of seven spends her spare time clearing off the kitchen table and pulling out her watercolors and paper, something she has also taught others to do.
Last year she taught a watercolor painting class to adults at Twigs. June 14-17 she will be offering a watercolor painting class for children ages 10 to 14.
Rice had taken a few art classes in high school and college, but it wasn't until after her first two children were born that she found an interest in watercolor painting.
"My husband said, why don't you do something you like," said Rice.
Enrolling at the University of Miami, she signed up for a watercolor painting class.
Surrounded by fabulous watercolor painters, which inspired her, Rice found an interest in the painting style, which is in some ways easier than oil painting.
"You have to plan ahead for white space," she said. "Once you lay color down you can't put white over it. Watercolor is the absolute opposite of oil painting."
Once a piece is dry, there is no way to mix colors in watercolor, she added. With oil painting even after a piece is dry there are ways to paint over an area to create a different look, feel or color.
"Watercolor for me, in my life, has been the greatest medium to work in," said Rice. "I can work on a piece at my kitchen table."
She said clean-up from watercolor painting is much easier than that of oils or acrylics, which require special clean-up.
The class offered through the Sunnyside Parks and Recreation Department will give children a basis in watercolor painting.
"Having had seven children I have an idea of what each age can handle," said Rice.
She said that children ages 10 to 14 who attend the class should be able to expand from the basic techniques she will be teaching them to painting things that interest them and building on their skills.
In the class youths will be learning the basic skills needed to create scenery, light, shading, texture, color-washes, color mixing and other elements of composition. An art show will be held the last night of the class to showcase the paintings.
"Hopefully, they'll have four different pieces at the end of the class," said Rice.
The first two classes, Rice said she will decide what the students will paint, but she hopes to let the youths paint things that interest them the last two days.
She said it is always interesting what people bring to paint. In her adult class last year one person brought their child's teddy bear and another had an interest in painting orchids.
The cost of the class is $65 for in-city residents, which includes all supplies, including, brushes, paint and watercolor paint.
The class will be held at the Sunnyside Senior Center.
Registration deadline is June 1. For more information about the class call the Sunnyside Parks and Recreation Department, 837-8660.