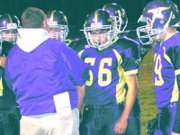 MABTON - Win and they're in. But lose this coming Friday night, and the Mabton High School football team will have to hold its breath to see if it qualifies for the postseason.
The Vikings are on the cusp of advancing to the playoffs thanks to this past Friday's dominating 53-8 victory over the Soap Lake Eagles. The win pushed Mabton's Central Washington 'B' League record to 5-2.
Mabton will close out the regular season on Entiat's home field this coming Friday. Entiat's playoff hopes are barely alive, meaning that they have to beat Mabton and then hope for an upset or two from a couple of other teams in their league to advance.
The bottom line, said Mabton Coach D.J. Search, is that his Vikes need to knock off Entiat this coming Friday.
"They'll be the best passing team we've faced this season," Search said. "And, they're coming off a really big win against Pateros."
Search said his club won't do anything out of the ordinary to shut down Entiat's prolific passing game.
"It will be assignment football as usual," he said. "We'll stick with our basic game plan."
That may serve the Mabton football team well. Especially considering what the Vikes did to visiting Soap Lake this past Friday. Namely, Mabton limited the Eagles to just 95 yards of total offense.
Offensively against Soap Lake, the Vikings had their way with the Eagles. By the time the second quarter rolled around, Mabton had already built a 33-0 lead. For the most part, the game was over.
Search substituted freely after the opening quarter, allowing all of his younger players to get playing time.
"Our younger kids got lots of varsity experience last Friday," he said.
Scoring-wise for Mabton, the Vikes' defensive unit was responsible for 8 of the 53 points. Marco Pineda blocked a Soap Lake punt in the first quarter and recovered the loose pigskin in the end zone for a touchdown, and Jesus Diaz sacked the Eagles quarterback in the end zone for a fourth quarter safety.
On the offensive side of the ball, Mabton's Alex Zavala ran in two TD's. The first came on a 12-yard burst and the second touchdown was a 43-yard breakaway run. Mabton QB Ryan Harris was responsible for two touchdowns, as well. He tossed a 36-yard scoring strike to Pablo Sanchez, Harris' only throw of the game, and he danced in from 14 yards out on a quarterback keeper. Scoring one touchdown apiece for the Vikings, all on runs, were Eli Perez, Ray Elizondo and Ramon Castillo.
Zavala had the most carries in the game against Soap Lake, rushing the ball six times for 68 yards. Sanchez added a 46-yard rushing effort on four totes.