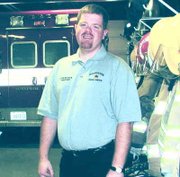 For the past year, Sunnyside pastor Lloyd Wicker has been providing his services to the Sunnyside Fire Department, counseling both those who have been struck by disaster and those who work in the department.
Wicker, who moved to Sunnyside from Holland, Michigan, where he was attending a seminary, noted that this is not the first time he has served as a fire department chaplain.
Serving as a chaplain in Illinois, Wicker said he started with that department as an emergency medical service coordinator and firefighter. He noted that after being involved with the fire department for awhile he began to show interest in serving as a chaplain, however at the time the Illinois fire department didn't have a chaplaincy program.
After talking to both the fire and police chiefs in the community in Illinois, a chaplaincy program was started and Wicker's role in the department changed from being an EMS to serving as a chaplain.
When Wicker moved to Michigan to attend a seminary his interest in working in the local firehouse came with him. He said he approached the fire department in Holland to see if they needed any volunteer firefighters. Wicker said he was told that although the department wasn't in need of any firefighters it was in need of a chaplain. That was all Wicker needed to hear.
With several years of chaplaincy experience under his belt, Wicker said before his family even moved to the Lower Valley he had contacted the Sunnyside Fire Department and Yakima County Fire District 5 about serving as chaplain.
Wicker said he is the first chaplain the county has had and the first chaplain Sunnyside has had in quite some time.
"A large part has been educating both the city and the county fire departments on what a fire chaplain does," Wicker said about his transition to the Yakima Valley.
Wicker said serving as the local fire department chaplain he finds himself primarily serving two groups - the fire department personnel and victims of fire.
Wicker said he is always available for the fire department staff, noting that they can talk to him about their personal needs, as well as helping them deal with things when they return from a difficult fire call.
As for the victims, Wicker said he usually responds to emergency calls involving house fires and car accidents.
"A lot of the time it involves just spending time with people in the middle of crisis," Wicker said, noting that often times people in crisis turn to prayer.
Wicker said he can also be the link between victims and the Red Cross, helping to ensure the families also get their material needs met when in an emergency situation.
When Wicker is not serving as the fire department chaplain, he is serving the congregation of the Sunnyside Christian Reform Church, where he is the pastor of congressional life.
Wicker said balancing his duties between the church and firehouse hasn't been too much of a challenge. He explained that one of the first things he did when he moved to Sunnyside was to seek the blessing of his church to serve as the local fire department chaplain.
"It's a big responsibility," Wicker said. "You're off whenever the pager goes off."
Wicker said he listens to the emergency ban radio for calls he thinks he should respond to, noting that the fire department has his pager number, which they use when they feel his services are needed.
Wicker said he sees the opportunity to serve as the fire department chaplain as his way of being involved in the community, no matter where he lives. Wicker has been an ordained pastor just a year and a half, though he has been working with the church for more than five years now.