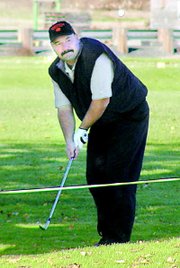 The Sunnyside foursome of Bob Hall, David Stokes, Bud Schatz and Eddie Joe Risk claimed top honors in the first ever "Great Pumkin Shootout," staged at Black Rock Creek Golf Course this past Sunday.
The Halloween day tournament drew a field of 112 golfers. The format for the tourney called for one golfer on each four-person squad to play an individual orange ball on each hole, with the ball rotating from team member to team member on each of the 18 holes. The other three team members played a scramble format on each hole.
Hall, Stokes, Schatz and Risk carded the low round of the tourney, a 145. They bested the Sunnyside area foursome of Juan Guerrero, Balbino Benitez, Marc Richey and Mike Richey by a single stroke. Finishing two shots back, with a 147, was the Mt. Adams Country Club foursome of Willie Edwards, Bob Girard, Terry Mathews and Monty Carl.
The low gross winners posted an eight-under 64 in the scramble portion of the tournament. In the individual orange ball format, the winning squad shot an aggregate 81. The Mt. Adams team actually carded a lower scramble score, a 63, but ballooned to an 84 in the orange ball format.
Guerrero, Benitez and the two Richey's claimed low net of field honors (actual score minus handicap). They posted a handicap-aided 135.25.
The top six finishing teams in both the gross and net scoring columns cashed in Sunday's tournament, winning anywhere from $80 a team to as much as $300 per squad.
Sunday's tournament also offered hole prizes, each worth $12 in pro shop credit. Those winners included Mike Richey for longest putt on No. 1 (23'7"), Jeff Hoptowit for KP honors on No. 9 (7'3"), Lon Sammaripa for KP honors on No. 12 (3'3"), Marvin Bonny for longest putt on No. 13 (22'3"), Jim Rowland for KP honors on No. 17 (1'4") and Frank Allec for longest putt on No. 18 (15'6").
. Bob Story,can be contacted at
(509) 837-4500, or e-mail him
at bstory@eaglenewspapers.com
Top 10 Gross Finishers
1) Bob Hall, Dave Stokes,
Bud Schatz, Eddie Joe Risk 145
2) Juan Guerrero, Balbino Benitez,
Marc Richey, Mike Richey 146
3) Monty Carl, Terry Mathews,
Bob Girard, Willie Edwards 147
4) Louis Alcala, Gary Hutchins,
Todd Lenseigne, Abel Daniel 152
4) Lonnie Sammaripa, Aaron Lewis,
Jeff Hoptowit, Leonard Rabanal 152
4) Steve Smythe, Dean Jorgensen,
Bill Pennell, Dean Schuler 152
7) Pete Veliz, Tom Diener,
Rudy Fernandez, Dan Clark 153
8) Sean Tudor, Andrew Michels,
Tom Tudor, Kirk Michels 155
9) Felix Cordova, Mike Garcia,
Ty Barrett, Dan Masias 157
10) Jeff Bender, Greg Smith,
Chuck Mattocks, Dottie Aiken 162