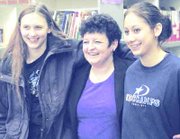 MABTON - One cannot listen to Tamara Steen talk and not be drawn into her web of enthusiasm.
Whether she is talking about organizing candlelight poetry readings for her reluctant teenage poetry students or spending her lunch hours teaching a senior how to read, Steen oozes the passion she feels for her job as a Mabton High School English teacher.
Her enthusiasm, as well as her novel approach to the dreaded, but necessary language arts, has earned the 22-year teaching veteran the state's highest education honor. Late last week, Steen was named Washington's "Teacher of the Year."
Steen, along with Mabton High School Principal Keith Morris and Mabton School District Superintendent Dr. Sandra Pasiero-Davis, traveled to Seattle, where Steen thought she was to be recognized along with eight other regional teachers of the year.
Her surprise at being named the state's top educator continues to stun the woman, who is never at a loss for words. "I'm still overwhelmed at the honor," Steen said yesterday (Monday) at a press conference held in her honor at the Mabton High School library.
"I'm happy to be the recipient of this award," she said. "I truly believe there is no greater job than being a teacher," she added.
Steen credited her fellow teachers, as well as her students, for making her job exciting and rewarding every day.
"It's frequently frustrating, but absolutely never boring," she laughed.
Steen, who began her career teaching seventh and eighth grade English, has taught high school English for the past 11 years at Mabton High School. This year she was selected as the Mabton School District's literacy coach. She has taught all levels of students, from remedial to advanced placement English, a program she helped to establish for the Mabton School District.
Steen is a teacher who lives near her students and frequently invites them into her home for socials, which from time to time involve mystery theater dinners.
She demonstrates and uses her talent for inspiring others to adapt to the educational process, say her contemporaries.
"I've been impressed with Tamara's ability to acknowledge all of her students with humor, style and love," said Pasiero-Davis.
"We are part of a team," Steen explained. "Every year, I claim I have the best students I've ever had. And I do every year," she added.
"I knew when I was eight that I wanted to be a teacher," Steen said. "I love it and think teaching is the best job in the world," she said.
Her students also appreciate the love she brings to the classroom.
"I've looked forward to being in her classes all my life," said long-time Mabton native Katie Beeman, one of Steen's high school English honors students.
"She makes class fun and exciting, and material we don't understand she acts out to make it easier to understand and interesting," Beeman said.
"She always finds a way to help us understand," agreed Alida Mendoza, who also is one of Steen's English honors students.
"Her class is hard, but she makes us understand. We know she could go anywhere to teach. But she sticks with us," Mendoza said.
As the state's teacher of the year, Steen will find that she will have to be out of the classroom. "She will be traveling a lot this year, as an education ambassador to Olympia to talk with legislators, and to other districts to share her special brand of teaching talents," said Pasiero-Davis.
"She will travel to Huntsville, Alabama to visit a NASA space camp. Tamara will also be going to Washington, D.C. to represent Washington at the National Educator of the Year awards program," Pasiero-Davis added.
"I have eight essays to write in order to compete for that honor," Steen added.
"It's a good thing I like to write," she laughed.