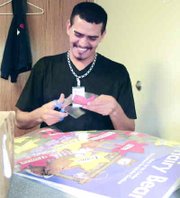 Johnny Bueno of Sunnyside isn't shy about telling people his age. Bueno gladly will say that he is 3, going on 33.
What has kept this long-time Sunnyside native so young at heart is his job. Bueno is a classroom assistant with the EPIC childhood education program in Sunnyside. His duties as a classroom assistant means he helps the head teacher prepare for each school day.
EPIC provides pre-school services to children ages 3-1/2 to 5 years old. Bueno said EPIC tries to fill the program with older children first and then if it can't it turns to the younger applicants.
Bueno must really enjoy his job because he has been doing it for 14 years.
"I first started as a volunteer," he said. "Then I applied for an open position."
What keeps Bueno at his job?
"I enjoy the interaction I have with the children and the families," said Bueno. "That is what has kept me there."
Besides the children, Bueno said the best part of going to work is being around his co-workers.
"It is kind of like my home away from home," said Bueno. "The environment is very friendly."
Just how many children has Bueno dealt with over the last 14 years? Bueno took some time to count some of his past pupils and came up with 564 children he has helped prepare for the public school system.
Bueno said his favorite part of seeing former students is being able to look at the progress each child has made.
"Looking at them makes me feel old," laughed Bueno.
When he is not at work, Bueno is busy taking care of his family. Bueno and his wife, Betty, have three children, Devina, 6, Emilio, 3, and Jonathan, 1, with another child on the way.
In his spare time, Bueno, a 1990 graduate of Sunnyside High School, enjoys reading books and collecting toys.
"I also try to spend as much time as I can with my kids," smiled Bueno.
Right now, Bueno is splitting time between his family, work and attending Yakima Valley Community College, where he is scheduled to earn his Associate's degree at the end of winter quarter. Bueno will have an Associate's degree in pre-school education with an option in special education. Bueno then plans to obtain a Bachelor's degree in education.
"My goal in life is to either work with pre-school children or be a kindergarten teacher," said Bueno.
Bueno said what he enjoys about working with younger children is that they use their imagination in learning.
If there was a hard part to his job, Bueno said it is saying goodbye to the children at the end of each school year.
"I always feel like we have accomplished a lot in our nine months working with the kids," said Bueno.
Bueno always tries to teach the students he works with the power of thinking positive.
"I hope they learn from me to never say never when trying to accomplish a task," said Bueno. "I try to let my kids know to just try your best."