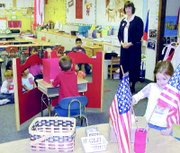 While the long lines of adult voters waited to cast their votes in Lincoln School gym Tuesday, the students in Sue Downing's kindergarten classroom were also making choices.
The 5- and 6-year-olds took turns casting their votes for presidential candidates and for their favorite foods.
"It was a way for the children to experience the excitement of the electoral process," said Downing.
The youngsters had their own ballots with photographs of President George Bush and Challenger John Kerry, as well as pictures of grapes, apples, pizza, hot dogs, gloves and mittens.
When the votes were counted, the young voters favored Bush over Kerry by a 10-6 margin, following the national trend.
By the way, they also prefer grapes to apples, gloves to mittens and pizza to hot dogs.