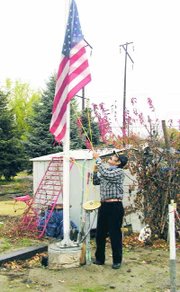 The American flag is flown proudly at the home of long-time Sunnyside resident Ramon Bermudez of Reeves Way, 365 days a year.
This week, after having learned of the death of Sunnyside Police Sergeant Steve Evans, Bermudez has decided to lower his flag to half staff in honor of the 27-year veteran of the Sunnyside Police Department.
Evans, who died of an apparent heart attack while on a hunting trip this past Saturday, could always be relied upon to respond in a caring way to any calls in the Reeves Way neighborhood, said Bermundez's wife, Ofilia.
"We knew him as an officer, and he was always very nice," she said.
Bermudez said he feels Evans' memory needs to be recognized by the lowering of the flag. "I'm doing this as a sign of honor and respect to him and to all policemen," he said.
"I think all citizens who fly the American flag should lower the flag in his memory and as a show of support to Evans' wife and family," Bermudez said.
Earlier this week, Mayor Ed Prilucik ordered the lowering of flags at all city buildings in Evans' honor.
Funeral services for Evans are planned to be held Saturday, Nov. 6, at 10 a.m.