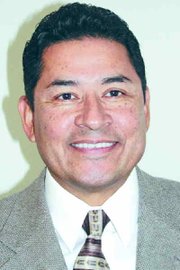 As a boy, Frank Villanueva enjoyed his adventures in scouting, but he never dreamed he'd grow up to be involved in recruiting other boys to the 96-year-old Boy Scouts of America organization.
This past summer, the Sunnyside man was hired as the District Executive of the Grand Columbia Council-614, which includes Lower Valley communities from Prosser to Wapato.
On Oct. 15, he received his commission as a Scout Executive after undergoing an intensive leadership training. Villanueva was presented his commission from Roy Williams, the Chief Scout Executive of the national organization during ceremonies held in Dallas, Texas.
As his first duty since returning to the Lower Valley, Villanueva has organized a number of "Boys Talk" events to introduce families to the value of scouting membership. He will host such an evening Tuesday, Nov. 9, at Sunnyside Pioneer Elementary School at 7:15 p.m.
"I'm hoping to increase the number of Hispanic boys who become Boy Scouts," he said.
"There is a cultural barrier among Hispanic families which seems to prevent them from allowing their boys to join scouts. But I'm hoping parents will see me as a role model and will feel more comfortable about allowing their children to join Boy Scouts," Villanueva said.
"I have wonderful childhood memories of my scouting years. I see my goal as the District Executive as an opportunity to lead other boys into having a similar, wonderful experience," he said.
Tuesday's gathering will be an informal opportunity for interested parents and boys to learn more about scouting, Villanueva said.
"Boosting membership in the program is one of my biggest responsibilities," Villanueva said.
In addition to recruiting new scouts to the organization. Villanueva is also charged with recruiting adult volunteers to serve as leaders for the new units. He also will work with the council commissioners, who provide leadership for den and troop leaders.
Working on the Grand Columbia Council budget is also a big part of Villanueva's new job.
"In fact, a lion's share of my time will deal with raising money for council activities through such things as organizing Friends of Scouting groups and hosting funding events such as the annual Friends of Scouting breakfasts," he explained.
Currently, there are 35 Boy Scout units in Villanueva's coverage area. During "Boys Talk" events held in other Lower Valley communities, Villanueva has already recruited more than 100 boys to the Cub Scout, Adventures-Crews and Explorer units located in each of the Lower Valley towns.
"The best part about having your child as a member of scouting is the values taught in the meetings," Villanueva said.
"There are no gray areas about what a member should or shouldn't do and that really appeals to me," he said.
Scouting provides a fun place to gain leadership training. It also provides a program for making moral choices in a camping environment, Villanueva said. "Having fun while learning is what it is all about," he added.
Parents wishing to learn more about Boy Scouts may call Villanueva at 1-800-572-8603 or email him at jvillanu@bsamail.org.