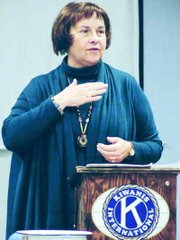 Dorothy Bristow is the first to admit she keeps toys in her office. Bristow, who was the featured speaker at the Sunnyside Kiwanis Club meeting Thursday morning, said those who walk into her office will see a shelf of toys, which is what she uses to combat stress and enjoy life, even while at work.
A student of laughter and the art of mixing work and play, Bristow said that the Puritans and Protestants brought the idea that work is exhalted and laughter and fun is sinful.
"A lot of people have the belief that if they are laughing they are not working," she said.
Over the past 10 or 15 years studies have shown that work environments that promote laughter and promote play can be effected on the bottom line, said Bristow.
She said that laughter and play raise morale and promote better customer service.
Business guru Robert Dolson said that if laughter and humor are accepted in the work environment employees will be rewarded for what they do and picked up after failure, Bristow said. She added that she believes there is a reason why the Chinese pictograph for the word busy is a combination of the two words heart and killing.
Bristow said that no one remembers their first laugh, which come when babies are about 10 weeks of age. By 16 weeks of age, babies laugh once an hour, even though they don't have a sense of humor, which is cultural, intellectual and learned.
By the time a child is four or five years old they laugh or have positive facial reactions 400 to 500 times a day, said Bristow, who holds a Master's degree in counseling.
"A child knows it's good to laugh," she said.
In a study of adults in work and non-work situations, adults laugh or smile 15 to 100 times a day. The majority of adults fall in the lower end, she added.
"They found that adults truly do not laugh or have positive facial reactions as often as children," she said. "Your body loves it when you laugh or smile. Even the act of smiling can have a positive impact on the body."
Bristow explained that there are other benefits to laughing including the release of natural chemicals in the body, which can reduce stress and act as a natural painkiller.
She added that if someone wants to learn something they should laugh when they are trying to take in the information.
Laughter is also a good way to exercise the lungs and promote creativity.
"As adults why don't we laugh more?" Bristow asked.
"We're told 'life is not a laughing matter', 'this is serious', 'this is a dog eat dog world'," she said.
"Laughter is the greatest connection between two people," she said.
People who can laugh easily and laugh well show confidence and self-esteem.
"Usually if they laugh together the relationship is good," said Bristow.
Besides laughter, Bristow suggests reframing things and looking at them from a different perspective, which can promote laughter.
She said a person in special education once told her, "I never thought I was a slow learner, I just thought teaching came very hard to my instructors."
Even with the tips to keep laughter alive, Bristow said that one of the best ways she has to promote laughter in herself is to keep her toys in her office. She said she has a magic wand, bubble gun, books and a ball that when thrown on the ground sounds like smashing glass, which she uses when she's really upset.