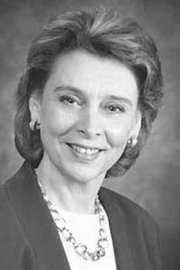 Exactly who will be leading the state in 2005 is still up in the air, although Democrat Christine Gregoire has seen her lead increase since ballots were first counted following Tuesday's general election.
According to the latest ballot counts Gregoire has taken nearly an 18,000 vote lead over her opponent, Republican Dino Rossi, who had 1,062,427 votes as of this morning at 8:30 a.m.
When votes were first being tabulated following Tuesday's election, Gregoire was in the lead, but less than 1,000 votes separated the two candidates. Gregoire was listed as having 48.96 percent of the vote, compared to 48.94 percent for Rossi.
As of Friday morning, Gregoire is in the lead with 49.35 percent of the vote and 1,080,382 ballots marked in her favor. Rossi is listed as having 48.53 percent of the vote.
Since initial counts were reported by the Daily Sun News Wednesday morning, little has changed in other races that affect residents of the Yakima Valley.
Democrat Patty Murray has maintained her commanding lead over Republican George R. Nethercutt in the U.S. Senate race. As of this morning, Murray had 53.9 percent of the vote, compared to 44 percent for Nethercutt.
In the race for U.S. Representative, although more votes have been counted, things remain very similar to Wednesday's initial results. Republican Doc Hastings is still in the lead with 120,444 votes, compared to 65,998 votes for Democrat Sandy Matheson. It was reported Wednesday that Hastings had 62.6 percent of the vote, versus 37.7 percent for Matheson. Those numbers have moved very little with Hastings maintaining 62.73 percent of the vote and Matheson having 37.26 percent.
In the races for the 15th Legislative District positions, Representative Bruce Chandler, who ran unopposed for the position one seat, received 12,369 votes. In the race between Republican Dan Newhouse and Democrat Michael H. Kepcha for position two, Newhouse has increased his lead since Wednesday. As of this morning, Newhouse had 10,073 votes, which is up from the 8,866 votes that had been tallied in his favor earlier this week. Kepcha, as of this morning, had 4,426 votes, up a few votes since Wednesday's 4,023 vote tally.
When it comes to Yakima County commissioners, Republican Mike Leita still has a commanding lead over Democrat Earl S. Lee in the race for the district one seat. Leita has received 35,209 votes, compared to 14,852 votes for Lee. In the race for the district two seat, Republican and incumbent Ron Gamache has increased his initial lead over Democrat Paul George. It was reported Wednesday that Gamache held a more than 6,000 vote lead over the Yakima mayor. As of this morning, his lead over George was sitting at 7,907 votes. Gamache now holds 48.32 percent of the vote, compared to 33.48 percent for George.
Maintaining their leads, which were announced following initial vote counts, are Lt. Governor Brad Owen, Secretary of State Sam Reed, Mike Murphy for state treasurer, Brian Sonntog for state auditor, Rob McKenna for state attorney general and Terry Bergeson for state superintendent of public instruction.
Results also remain the same following Wednesday's initial report of the outcome of several initiatives and measures.
Election results won't be certified by county canvassing boards until Nov. 17, with the Secretary of State certifying results sometime before Dec. 2.