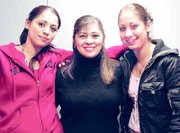 MABTON - The Mabton High School girls volleyball team will be looking to qualify for State this weekend with a couple of wins at the Regional tournament this Saturday in Wenatchee.
But the Lady Vikings have some other good news this season.
Two of Mabton's players received all-opponent honors in the Greater Columbia 'B' League. Earning the league honors were Jessica Prieto and Alida Mendoza.
"This season has gone really well," said Prieto. "We work well as a team."
Prieto said she was surprised to learn she had been named to the all-opponent team by her league peers and coaches.
"I think that is cool," said Prieto.
Mendoza feels the season has gone really well. She also feels like the success Mabton has had this year can be attributed to the strong team unity.
"Everybody is willing to do their part," said Mendoza. "We just play hard."
Mendoza was equally surprised to learn she had received the league honor.
"I didn't think I was going to get it," said Mendoza. "It was cool."
One honor that Mabton Coach Olivia Mendoza is proud of is the sportsmanship award her team won for the third consecutive year.
"I love it," said Mendoza of the sportsmanship honor.
Mendoza said she is very proud of how her players perform and conduct themselves on the court.
"We get compliments all the time," said Mendoza.
Mendoza is also proud of the league honors Prieto and Mendoza received.
"There are two of the best players I have had," said the Mabton coach. "They are very dedicated. They are my leaders."