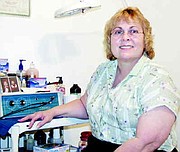 For more than 20 years Linda Roberson has been providing electrolysis services to Lower Valley residents seeking permanent hair removal.
Most of her career, Roberson has practiced out of a beauty shop on Seventh Street in Sunnyside, but about four years ago when New Image moved to Edison Avenue, so did Roberson.
Roberson and her sister, who lives in Yakima, are both certified electrologists.
"In our family we have people who have a lot of hair and you can't work on yourself, so when the opportunity came up we both took the classes," said the Mabton resident.
"It's a rewarding field," said Roberson, who finds a lot of satisfaction in helping women who are uncomfortable with facial hair or other problem areas.
"There are three times in life when women grow hair, puberty, pregnancy and menopause," she said.
But Roberson's services are not only sought by women. Men wanting their hands or backs hairless also visit her, as do high school aged boys and girls and college students home on vacation.
"As of today, electrolysis is the only method of permanent hair removal that is recognized by the Food and Drug Administration," said Roberson. She said plucking, tweezing, creams, waxes and other methods of hair removal don't kill the follicle and instead draw more blood to the area where hair is removed, causing it to grow back thicker and darker.
Although some people think that electrolysis is similar to a medical procedure, Roberson is quick to let all know that they are not medical persons, but she added it is not the "back door business" people used to think it was.
"We are not medical people ourselves, but we have a lot of medical people talk to us," said Roberson.
She recently returned from an electrolysis conference in Las Vegas, where she heard from medical professionals on different things to look for on client's skin and was updated on new technologies.
Roberson said she often sees or notices changes in moles that a client may not know about.
Without diagnosing a skin problem, she may suggest that a client see their doctor about the condition. On a few occasions Roberson's suggestion to go to the doctor has proven to benefit her clients, who were found to have cancerous spots on their faces.
Electrolysis by Linda is a second job for Roberson, who does quality control for Stadelman Fruit Company in Zillah. Her Sunnyside office hours are in the late afternoon and evening by appointment.
"I give a free consultation to anyone interested," said Roberson. "This is not like getting a shot," she tells her clients. "I go along the hair follicle and use a high frequency heat machine to cook the hair from the inside out."
Roberson said her clients keep her interested in continuing electrolysis.
"When I see my clients on the street walking with their head high, it makes me feel good," said Roberson.