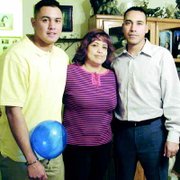 GRANDVIEW - The home of Eva Garcia was festive this past Saturday night as she welcomed her sons home from Iraq.
A tearful homecoming with family began about 4 p.m. when her sons arrived at her Grandview home.
It had been a year since Garcia saw her oldest son, Sgt. Ismael Ramirez, 25, and six months since Specialist Job Ramirez, 24, had visited home, according to the brothers' sister, Socorro Ramirez.
The brothers signed up for the Army two weeks apart.
"I kind of always wanted to be in the Army," said Job Ramirez, who was first to enlist. "I was going to Eastern and after I stopped going to school I came home."
A short time later he decided to sign up for a military tour. Scheduled to be released this coming spring, he recently re-enlisted.
Ismael was attending law school at Willamette University when he decided to enlist in the Army. "I realized I didn't want to be a lawyer," said the Washington State University graduate.
"You play with GI Joe's when you're little and you want to be in the Army," said Ismael. I also needed a way to pay off student loans."
Both men are stationed out of Ft. Lewis and recently returned from Iraq. Job has been in the states about a week and Ismael about four days.
The Ramirez brothers each received a four-day weekend and decided to visit their mother and other family in the Lower Valley. They will be taking block leave in December, which will give them a month off.
The two brothers are in the same Striker Brigade combination team, the 3rd Brigade of the Second Infantry Division.
Both work in supply and were actually at the same camp in Iraq for a while before Ismael was promoted and moved about 50 kilometers away.
"Iraq is colder and rainier than everybody thinks it is," said Ismael, who added that they had two days of snow before he left Iraq.
Stationed in the city of Mosul, which is a huge sprawling city, he said that although they are trained to work in supply, they, like other military personnel, had duties that aren't typical of supply officers. They often go on convoys into the city.
"All the cooks are guarding gates," said Ismael.
Being in Mosul for a year, Ismael has seen differences made in the services to the military personnel, as well as the citizens of the city.
He said the first three months they were there it was difficult without some of the amenities now offered, such as Internet cafes.
Ismael has also seen improvements in city sanitation and sewage treatment because of work done by the U.S. military. He added that schools are also up and running again.
Job believes the most important thing he's done since arriving in Iraq is what directly influences his unit.
Returning home, the brothers came to the Valley to be surrounded by family and friends, whom they haven't seen in a while.
Ismael came back to the states to his wife, whom he lives with in Renton.
"Once we're back it's like a regular day job," said Ismael.
"This is like a family reunion," said Socorro Ramirez. "We were last together a year ago last July when my brother (Ismael) got married."
One of her biggest fears is that now that her brother, Job, has re-enlisted, he will be required to go back to Iraq, although he believes he will have some time home before returning there.