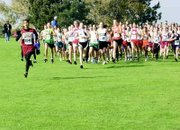 PASCO - Many considered Grandview High School cross country runner Brittnee Sanchez a favorite for the 2A State title after she easily won the District crown last week in Selah. But what many didn't suspect was that Sanchez would completely annihilate the field at the 2A State cross country meet at Sun Willows Golf Course in Pasco this past Saturday.
In what has to go down as one of the best individual performances ever at the State cross country meet, Sanchez had no problems claiming the State crown. The sophomore had a winning time of 18:33, 22 seconds ahead of Port Townsend sophomore Hannah Granger. Sanchez was nearly a minute ahead of Klahowya freshman Sierra Cook, who was third with a time of 19:12.
"She could have run faster had she been challenged," said Grandview Coach Jim Pillers.
"She had a four-second lead at the mile mark and an eight-second lead at the two-mile mark. She just kept increasing it from there," Pillers added.
Sanchez's performance in the 2A ranks comes after she made a name for herself as a freshman at the State meet last year. Sanchez took fourth place at the 3A State cross country meet in 2003 with a time of 19:10. That was the year Sunnyside's Isley Gonzalez, whom Sanchez battled back and forth with during the season, won the 3A crown. Sanchez was the only freshman to place in the top 12 in the 3A ranks last year.
In this year's 2A team competition, East Valley of Yakima repeated as the girls champion. The Lady Red Devils had 59 points. King's was a very distant second with 112 points.
The times in the top 12 finishes varied greatly. KayeLynn Joachims of Ephrata placed fourth with a time of 19:13. The times, though, varied greatly after that, ranging from Colville's Brittney Williams' fifth place finish (19:32) to Carolyn Gray of Deer Park's 12th place time of 20:07.
Teri Norris-Roberts of Hoquiam rounded out the field of 132 runners with a time of 36:28.
There isn't too much one can say about the performance of Sanchez, except for the word incredible comes to mind. Sanchez simply led from the beginning and never looked back, as the young Lady Greyhound sophomore hardly broke a sweat on her way to claiming the State title.