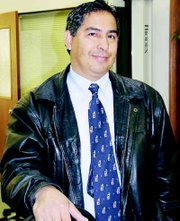 When a farm accident left Greg Munoz thinking about a career change, an advertisement in a local newspaper provided the Mabton man with a way out of the fields.
"I got hurt about 10 years ago while thinning apples," he explained. "I told my wife I was getting too old to do field work."
So when he saw an opportunity to become certified as a bilingual interpreter he decided that was his ticket out of the orchards.
As a boy, Munoz had often found himself acting as an informal interpreter for his father, usually explaining the evening news.
"In those days we didn't have Spanish television stations," he said.
"While working in the fields, I also helped with translating instructions," he added.
Taking his talent for understanding and accurately relaying messages, the quiet man soon found himself in demand with helping medical patients seeking help to explain aches and pains and relaying physicians' instructions for relief from injuries.
For a time, Munoz worked for an agency which subcontracted bilingual Spanish speaking persons to area medical clinics and hospitals which require precise interpretations. But now he is largely an independent contractor as a liaison between state agencies, health care providers and patients.
Munoz has been a state certified interpreter for the past 10 years, helping persons with no or limited English speaking skills receive all types of services, from social to rehabilitative services. Currently, Munoz works with such agencies as the Department of Labor and Industries and the Department of Social and Health Services. His specialty is medical terminology.
"I like the language and helping people to understand clearly their doctor or therapist's instructions," he said.
"Medical language is a very precise language," he explained. "Sometimes I have to translate the medical terms into simpler language so the patients can understand the value of what is being prescribed," he explained. Words like "jaw," for example, have several interpretations, depending on the part of Mexico the person comes from, Munoz said.
For example in Latin, jawbone is mandible, in Spanish the word is mandibula, but in some of the Mexican dialects, jawbone is known as quijada.
"So I have to know all of those interpretations," he said. "Most bilingual people who work in medical offices may know quijada, but not mandibula," he explained.
It's a job which Munoz has found to be both meaningful and interesting. "I hear a lot of stories from the people," he said. However, he isn't at liberty to share most of those stories due to confidentially issues.
"Sometimes I'm just the observer. If I see a puzzled or confused look on my client's face, I get the attention of the health care provider to recheck the situation or repeat instructions," he explained.
"I try to be invisible to others in the office, focusing only on the person whom I'm helping," he explained.
Munoz, who is frequently called into service in rehabilitation situations at local physical therapy offices, said at one time there were many more people who worked strictly as interpreters.
"As employers begin to hire more bilingual employees there is less need for people like me," he explained.
In the meantime, Munoz finds his schedule full, working as the voice between patients and health care providers. "I've done a lot of work at the local therapy offices," he said, but added, he has been known to travel all over the state to help out clients.
"I manage to keep busy in the Lower Valley," he said. He is a familiar face at Sunnyside Community Hospital and Prosser Memorial Hospital emergency rooms, as well as at Sunnyside's Complete Therapy Services and at Don Parsons' Physical Therapy and Sports Rehabilitation Service.
"It's a very rewarding job," he said.