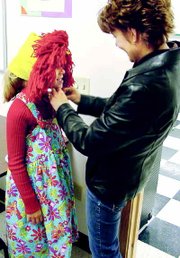 Part of the next generation of clowns attended the first of several classes last night to learn the basics and secrets of how to become a clown.
Monday night at the Sunnyside Beauty Academy, Arlo Waggoner, who is also known to many as Waldo the Clown, started the class by showing the students a video by the Ringling Brother's Barnum and Bailey Clown College. The video covered the basics of what the students will be learning over the next several weeks as they delve into the clowning world.
A form of entertainment that has been around for more than a thousand years, clowns were once known as court jesters.
Waggoner said the first step is to learn how to move like a clown.
While most people walk and move smoothly, clowns exaggerate their movements, which is important so that people know exactly how they are feeling.
Although they will have time to practice later, the students also learned the basics of juggling, which includes starting out with something like a light handkerchief, which will fall slowly. Waggoner said as that becomes easier, begin trying with soft bean bags, which won't roll away if dropped.
"The bottom line is practice," said Waggoner.
Last night's video also showed the basics of balloon art, clown gags and skits and designing costumes.
The students also learned there are three different kinds of clown make-up faces, the white faced clowns, which are the more reserved clowns. Auguste clowns, which have both white and flesh tones, are the roust-abouts and trouble makers, said Waggoner. The third type of clown is the tramp or character clown.
Clothes are determined by what kind of clown a person chooses to be.
Waggoner said that if his students choose to be a tramp or character clown he wants them to dress nicely instead of in old rags.
The key to developing a face and costume is to exaggerate already existing physical characteristics, such as height, length of face and girth.
When developing a clown face, the basic circus colors used are red, black, white and blue.
Clowns use color on their lower lip only and smiles are generally smaller, not the big scary smiles often created by inexperienced clowns, said Waggoner. Using baby powder, clowns set their make-up so it doesn't run.
"We use plain old baby powder as long as it doesn't have cornstarch in it," said Waggoner, adding that they brush off excess powder with a brush.
"After I get my make-up on I can go swimming and it won't come off," said Waggoner.
The next class will be held Monday, Nov. 15, at the Sunnyside Beauty Academy. They will be going over make-up at the next class. Waggoner said it's not too late to sign up for the free classes. The class is open to all ages.