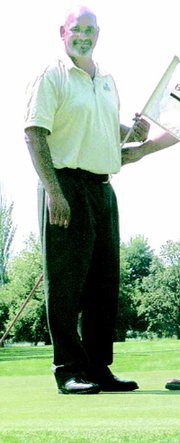 1980 Sunnyside High School graduate Scott Galbraith has had a long-time dream of owning his own golf course. The PGA head pro at Toppenish's Mt. Adams Country Club for the past 14 years is now one step closer to fulfilling that dream.
This morning (Tuesday), Galbraith signed a five-year lease to take over the operation of the City of Enumclaw Golf Club. The lease for the 18-hole, par-70 municipal course goes into effect Jan. 1, 2005.
"It's been a goal of mine to lease or own a golf course," Galbraith said in a telephone interview from Enumclaw today. He said although he won't be the outright owner of the Enumclaw course, leasing the facility will give him total charge of the day-to-day operations.
Galbraith will cease his PGA head pro duties at Mt. Adams the end of November. Late last night, he informed the board president of the Toppenish course, Jerry Besel, of his decision to leave.
Early this morning, Besel, while intimating that Galbraith will be sorely missed, said once he receives written notification he will contact the other board members to decide what steps are to be taken.
"I expect to have a written resignation from Scott sometime this afternoon," Besel said.
Besel said one of the first orders of business with the Mt. Adams board of directors will be to decide if a Class 'A' PGA pro will be hired to replace Galbraith.
"Then we'll go from there," he said.
If the decision is made to hire another Class 'A' PGA club pro, as is Galbraith, "...then we'll begin conducting a search," Besel said.
Besel said another option might be hiring someone outside the PGA ranks to just run the pro shop at the Toppenish course. The downside, he said, is that not having a Class 'A' pro on-site would limit the Mt. Adams players from playing regularly on the popular, six-month Central Washington PGA pro-am tour.
Any thoughts of having Toppenish's assistant club pro, Aaron Hunsaker, run the pro shop on at least an interim basis isn't a possibility, said Besel. He explained that over lunch recently, Hunsaker informed him that he will be departing very soon to caddy for long-time friend Souta Nozaka of Grandview, who is going to give the Gateway Tour a shot.
Galbraith takes over operation of the Enumclaw course from John McGregor, who has leased the facility from the City of Enumclaw for the past 22 years. Galbraith said he'll spend the next month and a half deciding what equipment he'll purchase or lease from McGregor, as well as deciding which of the current employees of the Enumclaw course he'll retain.
All of the current employees, Galbraith said, will be encouraged to turn in resumes and apply for positions.
The course, itself, said Galbraith isn't in need of any major overhauls.
"It just needs a lot of clean-up. Basically, it just needs some tender loving care," he said.
Originally, the Enumclaw City Council received proposals from five groups to take over the operation of the golf course. That number was whittled to three, with Galbraith getting the nod at last night's Council meeting. He was expected to formally sign the five-year lease this morning.
Galbraith said he is currently attempting to get the word out to all golfers who have credits built up at the Toppenish pro shop. He said the credits must be spent by Nov. 30. Those with pro shop credit at Mt. Adams who want to order in something that is not in stock need to place their order by Nov. 15.