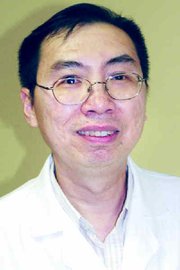 Working full time and studying for the past four years has resulted in Thuha "Bac" Nguyen earning the right to add doctor to his name.
But the title doesn't mean he will be seeing patients as a physician, he explains.
"I do, however, have a very extensive knowledge of drug therapy and will be of service to doctors and their patients in helping to monitor their medications," he explained.
Nguyen, who has worked in the Sunnyside Community Hospital pharmacy since 1996, recently earned his Doctorate of pharmacy from Idaho State University.
He completed the two-year doctorate program over the course of four years, working as a part-time student while maintaining his job working with fellow hospital pharmacist Arie Van Wingerden of Sunnyside.
Nguyen, who came to America in 1987 from Vietnam, earned his pharmacy degree from St. John's University in New York State, before moving to the West Coast.
Nguyen said since coming to America he has worked to be of value in society. "It is the most important thing to me," he said. "I took the opportunity to pursue an education so I could be of value to others," he said.
In order to earn his doctorate, Nguyen had to take training, known as clerkships, outside of the classroom in six-week intervals. As a doctor of pharmacy, he doesn't actually prescribe medications to patients, but serves as a resource for physicians and hospital staff.
With the additional training, Nguyen said he is now more qualified to aid physicians with drug therapy and drug monitoring.
He said living in the Lower Valley suits his lifestyle. A Grandview resident, Nguyen said he worked in Seattle for about six months at a Payless pharmacy.
"I didn't like living in the city," he said.
"I wanted to work in a hospital in a rural setting. This area and the hospital setting suits me," he added.