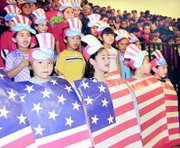 GRANGER - Toughened by memories of violence, military veterans living in the Granger community were visibly moved by the sound of more than 300 youngsters reciting the "Pledge of Allegiance" during a school assembly held yesterday (Tuesday) at Roosevelt Elementary School.
"I don't think there is anything sweeter than the sound of children saying the "Pledge" or singing patriotic songs," said Bill Russell, a Vietnam war veteran and long-time Granger resident.
Russell, along with fellow VFW members Lyle Bergstrom and Dave Rodriguez, was on hand for the school's Veteran's Day ceremony. The men, who served as a color guard for the children's assembly, were later presented with certificates of appreciation from the students. The children also presented tokens of their respect and appreciation to a number of other Granger residents who served their nation in past wars.
But the veterans weren't the only heroes honored during the assembly. A group of Granger High School girls were also singled out for their selfless deeds.
"The girls voluntarily cut their hair in order to provide human hair wigs for cancer patients suffering hair loss," said Janet Wheaton, Roosevelt Elementary School principal.
Wheaton introduced the young women, who each allowed more than 10 inches of their hair to be sacrificed for the Florida-based charity.
The girls, all members of the Granger High School Young Authors Club, decided to cut their hair at the suggestion of Emma Rice, whose grandmother died of cancer.
"We celebrate these girls and our veterans for all of their humanitarian acts," Wheaton said.