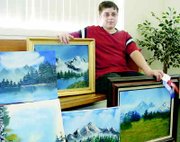 13-year old Nicanor Garza of Sunnyside is learning to paint one lesson at a time.
The local homeschooled student has been watching legendary public television painter Bob Ross, known for his landscapes with "happy trees," and has begun painting his own versions of the landscapes.
Two of Garza's paintings were entered into the Central Washington State Fair this past fair season and he earned first and second place ribbons for his efforts.
When Garza's ready to paint he spreads newspapers across the living room floor, sets up his easel and canvas and watches Ross, mimicking his techniques and styles. Taping the shows, Garza is able to stop the tape and work at his own pace. It's a ritual he goes through about every two weeks as he tackles a new painting challenge.
In many ways, Garza is following in his great-grandmother's footsteps. She is also a painter who works in oil, the same as Garza.
He is learning what is called the wet on wet technique, which means the paint doesn't have to dry before more paint is applied.
Until now, most of Garza's paintings have been mountain scenes, but he said he has an interest in painting a forest or maybe some ocean scenes.
Garza said he choose to watch Ross because of the techniques he uses.
"I like how Bob Ross mixes the colors and uses different colors for the mountains and shadows for the lakes," he said.
Garza is the son of LeeAnna and Victor Garza of Sunnyside.