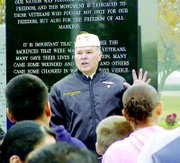 Today, Americans are saluting the sacrifices of military veterans who have served and are now serving their nation, in Veteran's Day ceremonies in every town and city in the country. But yesterday (Wednesday), about 100 Harrison Middle School students took time from their classroom work to pay tribute to area veterans.
The seventh graders took a pre-Veteran's Day tour of the Sunnyside Veterans' Monument located in Lower Valley Gardens on Van Belle Road. As a part of their tour, they listened as Vietnam veteran Greg Schlieve of Grandview explained the history of the monument.
Schlieve, who along with SunnyView VFW Post #3482 spearheaded the building of the war monument, shared stories of more than 320 men and women whose names are listed on the wall. "They left Sunnyside as young people to fight in far off lands, suffering wounds and imprisonment and even death in services to their country," Schlieve explained.
"The monument is a symbol of our respect for all of these men and women," he said.
Schlieve explained what MIA (missing in action), POW (prisoner of war), and KIA (killed in action) meant to the attentive group of students. The students then took rubbings of the many names of veterans and the many quotes engraved on the granite walls, which comprise the memorial.
The young people are students in the classrooms of Jennifer Golden, Tanya Goutreaux, Rick Puente and Tyler Alseth.
Golden said the students will use their rubbings to create a wall of honor in the middle school hallways.
"It's the students' way of remembering past veterans, but to also salute the men and women who are currently serving our nation at home and overseas," she said.