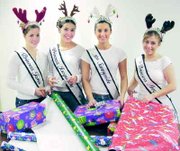 The Miss Sunnyside Court wants to help area clubs and organizations have hassle free holiday dinners and parties. The court, led by Miss Sunnyside Andrea Phillips, are hiring themselves out as hostesses, waitresses or clean-up crews for interested groups.
"For a donation, the four-member court will attend your function and help out," said Lucette Garcia, the court chaperone.
The court is attempting to raise money for its travel expenses and parade fees for the upcoming parade season, Garcia explained.
The girls are also offering a gift wrapping service beginning the day after Thanksgiving, she said.
The court will be at the Sunnyside Wal-Mart store wrapping presents for a small fee, she said.
Anyone interested in having the court help with their holiday get-together is asked to call Garcia at 830-2321 for scheduling.