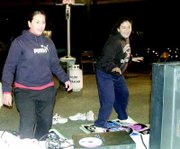 It was impossible to miss the activities taking place at Centennial Square Friday and Saturday, as Sunnyside High School Key Club members withstood freezing temperatures to collect food and clothing donations for local food banks.
The local club camped out at the gazebo in downtown Sunnyside from 4 p.m. Friday evening to 4 p.m. Saturday evening. Key Club President Courtney Cohan said this marks the second year the club has done a freeze-out event, which the club does to both collect food and clothing donations and to raise money for the club's other service projects. She noted that the freeze-out is typically the club's largest fund-raiser of the year.
Cohan explained that the 30 club members took time before this past weekend's event to either collect one-time donations for standing out in the cold or to get sponsors, who donated a set amount of money for each hour spent out in the cold. Cohan said she is expecting the club to raise more than $500 toward future community service projects thanks to their freeze-out efforts.
As for the food and clothing donations club members accepted over the weekend, Cohan said those will be distributed to local food banks.
Cohan, who was standing under the gazebo Friday night wearing several layers of warm clothing, noted that although the temperatures were cold this past weekend it wasn't as cold as last year. She said last year it was about 30 degrees colder when the club did its freeze-out.
In order to keep warm, the club members tried to keep moving. They had set up a dance challenge video game and were standing on the corner of Edison Avenue and Sixth Street waving signs and trying to get the attention of passing motorists. Club members also had access to gas heaters set up in the gazebo.
Cohan said she thought the freeze-out would be a fun activity for the club to take part in, noting that it also gives them a chance to see how those people who don't have a warm home to sleep in live on a day-to-day basis.
The food and clothing drive started during the freeze-out will continue later this year as Key Club members get ready to organize the annual food drive at Sunnyside High School. Cohan said the food they collected Friday and Saturday is just the beginning.
"We'll get most of our food from the food drive at the high school," she said.