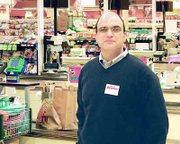 The staff at Sunnyside's Food Pavilion welcomed a new face to the mix recently.
David Diaz is the newest addition to the Sunnyside Food Pavilion staff. Diaz, 45, is the store's new manager.
Diaz has been in Sunnyside running the grocery store for the past three weeks. He came to Sunnyside from the Orange County area in California.
Currently, Diaz is in the process of relocating from California with his family. Diaz and his wife, Eva, have two children, Ryan and Jeffrey.
Diaz's family is looking to sell its home in California. Diaz said when he interviewed for the management position with Brown and Cole officials, he didn't realize they would be having him move so soon to assume his new position in Sunnyside.
While in California, Diaz gained extensive experience in the supermarket industry, working with large and small store chains. Diaz, who has 26 years of experience in the grocery industry, said he worked for many years with the Lucky Stores chain, which was eventually purchased by Albertson's.
Diaz, though, said what attracted him to the position with Brown and Cole is the structure the chain maintains with its daily operations.
Another key for Diaz in accepting the position with Brown and Cole is that he wanted to get away from the hustle and bustle of everyday California.
"I wanted my life to slow down," said Diaz.
When he was hired for the position, Diaz said he wasn't sure where he was going to be located. But so far, he has really enjoyed the Sunnyside area.
"I love it," said Diaz. "I came during a chilly time."
Diaz said he enjoys rural life, having grown up in a rural setting before moving to California. Diaz said one of the attractions of the Sunnyside area for him is the calmness of the Valley and open spaces, which he enjoys.
Another key for Diaz with coming to Brown and Cole is that he feels the store really tries to cater to the needs of the community. He also enjoys the fact that as a manager, Brown and Cole allows him the flexibility to remain competitive with larger chains.
"We have the flexibility to go outside the box," said Diaz.
As a manager, Diaz feels his strong points are his people skills. He also likes to stress the importance of unity in the workplace. Diaz said that it is important for employees to realize their responsibility with a company and empower them because that carries over to their relationship with customers.
Diaz said that he is hoping to learn more about the Sunnyside community after the Thanksgiving holiday.
Taking over as manager of the Sunnyside Food Pavilion is something Diaz is excited about.
"I am here to run the store the best I can and have good employees," said Diaz. "I actually feel good about coming to work now."