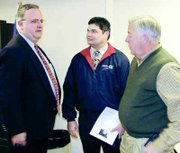 Changing lives and saving smiles remains the ultimate goal of Rotaplast International, an organization which funds travels to third world countries to offer surgical repairs to the faces of children disfigured by birth defects, such as cleft palate.
The opportunity to be a part of what Ellensburg Rotarian Bill Rowley considers a mission of extreme importance was again presented to members of the Daybreak Rotary Club Wednesday morning.
Rowley, who makes several visits a year to Central Washington Rotary Clubs, was in Sunnyside to drum up support for the medical mission, which has served in excess of 1,500 children this year alone.
The Daybreak Rotary members were not hard to convince that donating money to the million dollar international project is worthwhile. Following Rowley's presentation of a 20-minute video of a recent Rotaplast mission to Cochabama, Bolivia, South America, Daybreak Rotarians presented him with a number of donations for upcoming missions.
Their continued support is a near given. After all, one of their own, Tom Lathen, has made two trips to document the Rotaplast medical mission and its impact on the lives of the children served.
"It has changed my life as well," said Lathen, who expects to make his third Rotaplast mission trip in April 2005.
This trip Lathen expects to travel to Guatemala, where the Rotaplast team will be doing genetic research in addition to providing surgical repairs to children afflicted with the scars of cleft palate and related defects.
Currently, Sunnyside Noon Rotarian Rich Strain is also serving on a Rotaplast mission now underway in Vietnam, said Rowley.
Rowley said for the cost of $500, a child's life is dramatically changed.
"Many of these children are tormented by the people of their villages because of their disfigurement," he said.
A single Rotaplast mission to a third world country costs $50,000 to provide medical supplies and to cover the cost of the medical team, as well as their transportation, Rowley explained.
Non-medical team members, like Lathen, pay for their own expenses, he added.
The life changes as a result of the Rotaplast mission is like winning the lotto for those whose lives are changed due to our efforts," said Rowley.
"It is all about happy endings for all concerned," Rowley said.