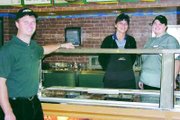 GRANDVIEW - Lower Valley residnets can begin preparing for no-stop dining. You can now purchase your favorite Subway sandwich without getting out of your car thanks to entrepreneur Brandon Christensen.
Christensen has opened a new Subway Restaurant inside the new AmeriStar Chevron (the Old Maid O'Clover) at 1005 Wallace Way, just off I-82, exit 73.
The popular sandwich franchise opened in Grandview yesterday (Wednesday) under Christensen's management.
"We've gotten through our first lunch rush without any trouble," Christensen said.
He said Shelly Baze will manage the restaurant, which features seating for 30 customers, plus a drive-thru window to get people in and out in a hurry.
The seating area features a Tuscany decor as a nod to Grandview's agricultural community and the Lower Valley wine industry.
"I'm excited to be able to bring Subway's delicious, fresh products to the people of Grandview," said Christensen.
"I look forward to meeting the residents and invite everyone to stop by and try our famous submarine sandwiches," he said.
In addition to its menu of made- to-order foot-long and six-inch sub sandwiches, the new Subway will also serve breakfast and soup.
The Grandview Subway will be open from 7 a.m. until 9 p.m., daily.
The Grandview Subway is owned by R.E. Powell Distributing, where Christensen has worked for the past eight years. He manages the retail and restaurant operations for the company, which also has a convenience store in Mabton and one other Subway restaurant located in Touchet.