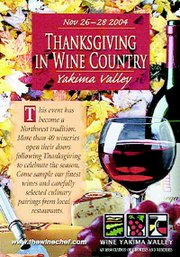 In order to encourage the perfect pairing of Yakima Valley wines with carefully selected culinary treats, the Wine Yakima Valley Association members are again throwing open their winery doors for their annual Thanksgiving in Wine Country celebration, Nov. 26-28.
More than 40 Yakima Valley wineries will offer food and wine pairings at the wineries, said Randy Tucker of the association and winemaker at Tucker Cellars in Sunnyside. "And, this year in addition to pairing food with wines at the Valley's wineries, area restaurants, caterers and specialty food shops will be featuring our wines throughout the month," Tucker said.
For example, Tucker Cellars is pairing with Grant's Pub and Restaurant to showcase the popular Tucker wines with British bangers (a type of bratswurst) and Scottish eggs (pickled eggs wrapped in sausage and fried), Tucker explained.
The Grants Pub representatives will be in the Sunnyside winery during the Thanksgiving weekend event, preparing samples of the bangers and eggs, Tucker explained. He said wine and food pairings will be enjoyed by tourists and visitors at each of the association wineries during the weekend.
"This year we have also developed a web site where the recipes, wines and food pairings are listed," Tucker said.
He said persons wishing to see which wines are being paired with which foods at the wineries are encouraged to visit www.thewinechef.com. Copies of the recipes are also listed at the site.
Most Yakima Valley wineries will be open 10 a.m. until 5 p.m. during the open house weekend. The only cost to attend the open house is the $5 purchase of a Yakima Valley wine glass at any participating winery.
"We are encouraging wine enthusiasts to use the souvenir wine glass for this year's event," Tucker said.
For more information about Thanksgiving in Wine Country visit www.wineyakimavalley.org or info@wineyakimavalley.org.