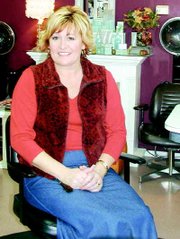 GRANDVIEW - Taking the first step to go to beauty school may have started off as a way for Grandview stylist Shellie Speck to follow in her sister's footsteps. But in the end that decision led her into a profession she has been involved with for the past 25 years.
Speck said she first started attending beauty school in Ellensburg, where she grew up, because her sister was already attending classes there. She added that she also knew that it was a program she could complete in about a year, noting that if she ended up not liking the field she would have only dedicated a short amount of time to it.
When Speck graduated from beauty school in 1979, she found herself working for one of her instructors at the Hair Forum, a salon that used to be located in Ellensburg.
However, Speck was only at the salon for a few years before her then-husband's job forced the family to move to the Lower Yakima Valley. She said when they were looking for a place to call home, they searched everywhere. Ultimately, the family moved to Grandview.
Despite having moved to Grandview, Speck found her first Lower Valley beauty salon job at a place in Sunnyside. It didn't take Speck too long to go from working at a salon in the Valley to owning her own salon in the area.
Speck noted it was while she was working in Sunnyside that she noticed a salon in Grandview was for sale. That was all it took.
In October 1984, Speck came to own the New Reflections salon on Division Street in Grandview. At the time, Speck had one employee. Looking back, Speck said she isn't sure what possessed her to purchase the salon at the time, noting that she was still new to the community and didn't really know anyone.
In order to get the word out about new ownership of the salon, Speck said she did a lot of advertising in her first few years with New Reflections. She noted that she also did a little redecorating, making the salon a more inviting place for people to come and get their hair done.
Eventually, Speck said she credits word of mouth with helping make the salon a success.
After 15 years of owning the Grandview salon, in 1999 Speck decided it was time to give up New Reflections. She said at the time she had planned to relocate outside of the Lower Valley and knew that selling the salon was something she was going to have to do.
"I tried to relocate but I didn't get far," she said.
Instead, Speck stayed in the Valley and continued on as a stylist at New Reflections.
Speck said it's a little different working at the salon and not owning it. She noted that she still works for herself, but she doesn't have to deal with any of the other things that come with actually owning the business.
Speck, who recently married Steve Speck of Sunnyside, said although she started beauty school with no expectations to stay in the field, she has enjoyed the past 25 years. She noted that it's the people, both whom she works with and her clients, that keep her coming back day after day.
She added that when her two children, Jennifer and Brad Copeland, were growing up it was a good field to be in. Speck said it gave her the flexibility she needed.